1. India's largest telescope at the Astronomical Observatory, Nainital
The largest telescope in India is a part of the Aryabhatta Research institute of Observational sciences (also known as ARIES), at Manora peak, 9 kilometres from Nainital- a popular hill station in Uttarakhand. It is an autonomous institution under the Department of Science and Technology  of the government of India.
Although open to the public at day time on all days, special permission is required in advance for night viewing.
ARIES has in-house workshops and is known for its extremely well-maintained library that houses over 10,000 volumes of research journals and an impeccable collection of books on Astronomy, Astrophysics and the Atmospheric Sciences.
Fun fact: A great place for both children as well as adults, through the telescope at ARIES the rings of Jupiter can be clearly seen.
2. Star gazing at Indian Astronomical Observatory, Ladakh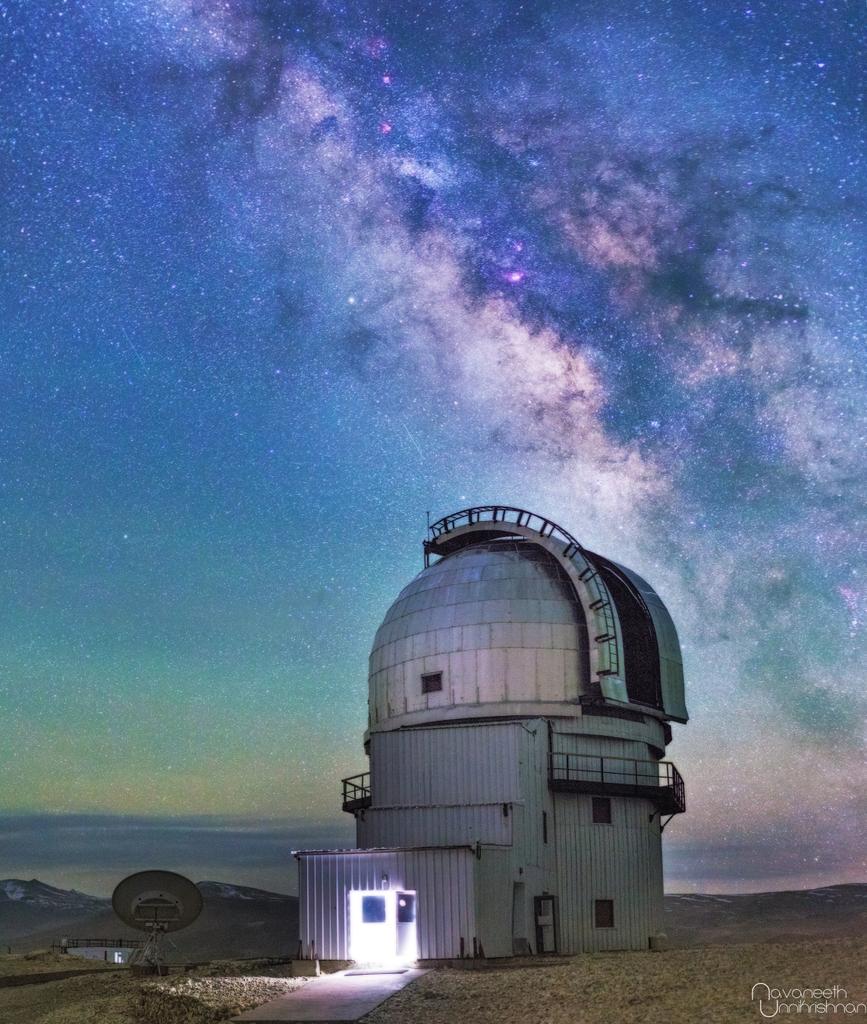 Image - twitter.com
The Indian astronomical Observatory in Leh-Ladakh operated by the Indian institute of Astrophysics, Bangalore  has one of the world's highest sites for optical, infrared and gamma-ray telescopes. Situated at an elevation of 4,500 meters (14,764 feet ), it is currently the second highest observatory in the world.
Also called the Hanle site, this observatory is deemed to be excellent for visible, infrared and sub-millimeter observations throughout the year. It has two telescopes, namely the Himalayan Chandra telescope and the High altitude Gamma-ray telescope. 
The observatory is at a 10-hour drive from Leh, the district capital of Ladakh and is close to the Chinese border.

3. Ancient Astronomical Instruments At the five Jantar Mantars
Built by the Rajput king Sawai Jai Singh II and completed in 1738 CE, the Jantar Mantar at Jaipur is one among the five in India. These ancient astronomical instruments are situated in
New Delhi
,
Varanasi
, Mathura and Ujjain other than in Jaipur. The one at
Jaipur
is the largest among the five. The entire structure is basically a collection of instruments that can be used to observe astronomical positions with the naked eye. The observatory is an example of the Ptolemaic positional astronomy which was shared by many civilizations. All the five Jantar mantars are worth the visit, but only if you read up on them earlier before you go.
4. Largest Planetarium In Asia At Birla Planetarium, Kolkata
Image - flickr
The largest planetarium in Asia and the second largest planetarium in the world, the Birla planetarium at Kolkata is most known for its design -which resembles a Buddhist stupa and for its interactive session of learning.  It offers to the public and students more than 100 astronomical projects dealing with various facts of astronomy, astrophysics, Space Science as well as myths concerning stars and planets.
Ticket Fee - INR 40



5. Sky Theatre show at Nehru Planetarium, New Delhi
The Nehru planetarium is as much of a rage now as it was earlier. Children of all ages used to love coming to the town side in New Delhi and visit the planetarium and science centre. The planetarium is extremely child-friendly and has brilliant shows, especially at its Sky theatre.  The idea behind creating such a centre itself was to create a scientific temper using science and entertainment. At the centre, learning takes place un various ways- You can come here for astronomical study, come to attend lectures by scientists and scholars, attend quiz shows,  astro-painting, Science elocution. Special arrangements are made to watch, study and photograph Solar & Lunar eclipses, and many such other events. 

Ticket Fee - INR 60 (adults), INR 40(Children, 4 to 12 years)



6. Simulation Games At Hal Aerospace Museum, Bangalore
The Aerospace museum maintained by Hindustan Aeronautics limited in Bangalore is well known for its educative and engaging environment for all kinds of people; specifically teens and adults. It is open from 9 am to 5 pm on all days and is a visual treat for people who would like to find out about all that the Indian company has achieved in the Aerospace industry. The museum houses a large number of aircraft and helicopters, simulators, a mock control tower and much more that unravels the history and development of the Aviation industry.
Visiting this place is a must in Bangalore on a visit for both veteran enthusiasts and the new and learning.

Ticket Fees - INR 30
For the travellers who have a little bug for astronomy and the extra terrestrial things do excite them, you must visit these places soon. Get your free personalized itinerary here.