Seeing a woman revving up her bike, wearing a leather jacket, gloves and sunglasses before going off on a long ride to the hills might be a rare sight even today. But scores of women in India are breaking gender stereotypes and taking on the open road.
Now more than any other time in history, women are taking up motorcycle riding in record numbers. All-women biker groups are fast gaining popularity in India, as women bikers break social barriers, hop on to their bikes and take on the long road. If you've found your way to this page because you're a woman thinking of getting into the sport, you're certainly not alone—one in 8 motorcycle rider groups on the road today is of women!
These groups are limited to cities such as Delhi or Mumbai, their presence is felt at tier 2 cities such as Surat as well. If you're a biker woman – or have always wanted to be one, but couldn't find the inspiration, time or know-how – here are 8 groups to get your pulse racing:
The Bikerni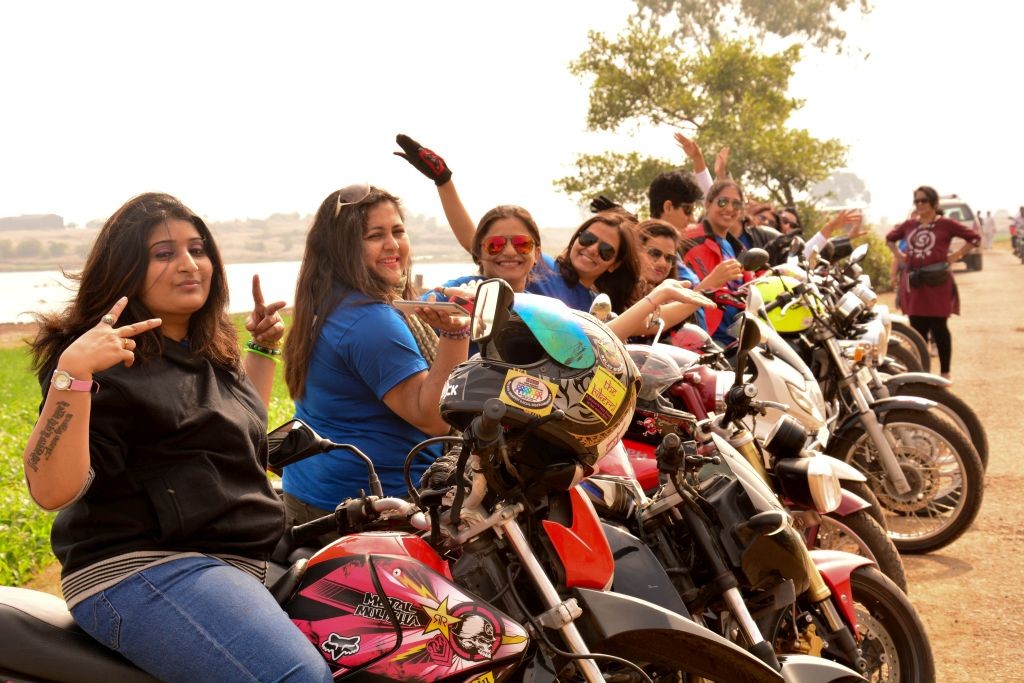 Image – Globbalwomenwhoride
Started in 2011 by Urvashi Patole, the Bikerni is one of the earliest all-women biker groups in India. The members of The Bikerni have a number of records to their name and are well respected in the biking community as the front-runners of the women motorcycling movement. The group set a record in the Limca Book of World Records in 2013 for being the largest all-women group to ride to Khardung-La, considered the highest motorable mountain pass. To qualify as a member of this group, you have to complete three rides with the members. You can ride any bike, as long as you've got the passion in you.
Meet them here.
Bengal Lady Bikers
Image – Ladybiker.in
The Bengal Lady Bikers started as a group for, and of Kolkata-based riders. Today, they organise themselves into small teams and set off for the hills – covering trails from Uttarakhand to Kashmir. Some of their riders go on solo trips and then write about them on the website's blog, inspiring other women to take off by themselves. According to their motto, they have no fixed plans or seasons – they just don their helmets and get going.
Read there stories at here.
Riderni – Ride Till Die
Image – Ridetilldie.com
Anjaly Rajan began The Riderni in 2012. Based in Ahmedabad, the group has members between the ages of 20 and 50. For the women in this group, tinkering with their bikes and overcoming gender stereotypes is as much as passion as riding.  Believers in social justice, the group has taken out rallies in support of Nirbhaya and to create awareness about substance abuse.
Contact them here.
Hop On Gurls
Image – lbb.in
This Bengaluru-based group was founded in 2011. Its member are women who have fallen for the calm, sturdy grace of the Bullet. Dedicated exclusively to the Royal Enfield cruiser motorcycles, the group is also a great place for those who have only thought of buying – or those who have newly purchased – a Bullet. The members help each other out with tricks and tips, and organise long trips every three months. It also has branches in Pune and Mysore.
Register here.
Lady Riders of India
Source: Credr
And now, something for the super-bike enthusiasts. Formed in 2016 by Maral Yazarloo from Pune, this group is for women who love bikes above 650cc. The members of the group share a common love for speed and the guts to ride across the country. With meet-ups in Mumbai, Pune and Delhi, the group has members from many cities across the country. They are currently planning a huge trip spanning the length and breadth of the country. There's also an international trip on the cards. Besides having a 650cc plus bike of any brand, the group requires all members to have covered 10,000 kilometres.
Contact the group here.
REgals
Image – Bangalorefirst.in
They are the Royal Enfield girls of Mumbai – formed by dentist Aparna Bandodkar in 2012. This group organises rides to support causes, the most recent one being about women's safety. They call themselves the 'Queens of Mumbai', as they revv up their super cool Royal Enfields and meet up in Mumbai for rides near and far.
Get in touch with the group here.
Biking Queens
Image – Credr
Based in Surat, Biking Queens was started by Sarika Mehta in 2015 for super-bikers. Besides super bike riders, the group interacts with women bikers from all over India, advising those who are new to biking. The 45-member group participates in bike fests (most recently, the India Bike Week 2016) and undertakes rides across the country,
Contact them here.
Biker Babez
Image – Polkacafe
Chennai-based Biker Babez is all about introducing women to the wonders and challenges of drag racing in India. While their motto is to 'ride safe and smart', they're also daring enough to enter what is considered a man's domain, and take up endurance training, racing, and motocross.
Just incase you are wondering, it's not all about sitting pretty on a motorbike either. From changing tyres to fixing clutch wires, from stunting to racing – these women know it all and stand as equals with their male counterparts. They are no longer limited to nimble scooters and prefer racing on super bikes, riding smooth-sailing Bullets and saving their classic bikes for Sunday morning rides. Biking is a passion for these women – and also a source of empowerment and independence.
Like this story? Or have something to share? Write to us: hello@www.traveldglobe.com, or connect with us on Facebook and Twitter (@traveldglobe).