Some love solo traveling and some prefer to travel with friends. But these travel bloggers in India claim that there is nothing in the world that makes them more happy than traveling with their better halves. Your life partner fills all those things which you lacks and makes them perfect holiday for you.
Traveling along with your partner is the truest test of love and these travel blogger couples know it well. They have embarked on several journeys together and celebrated their wanderlust across all over the globe.
Here's a list of top 10 Couple Travel Bloggers whom we follow and feel are influential in the industry and make the country proud. These are in no particular order as such.
1. Rishabh & Nirali
Like all new couples they were in a phase of discovering each other, after a while they decided the best way to move forward was to discover the world together and in the process discover themselves. Both being the free spirited kind, the idea appealed to both of them to became The Gypsy Couple. They focuses on boutique luxury, couple travel and adventure. Nirali is a fashionista and they will be launching a lifestyle section as well. They've been featured as one of the top Couple Bloggers to follow in 2016 as well.
Connect with them – Twitter, Facebook
2. Revati & Charles Victor
The married couple from Mumbai are advertising professionals by day and ameteur chefs and travel bloggers by night. Their mantra is to travel uncommon and to open different doors for travel to the world. If you're on a hunt for lesser known interesting destinations, The Different Doors are waiting to be opened.
Connect with them – Twitter, Facebook
3. Swati & Sam
The Tales of a Traveler is a Luxury travel & Lifestyle blog to inspire people to step out and explore the beautiful world. In their blog they have shared the best of luxury stay, offbeat locations, food finds, weekend getaways, restaurant reviews and travel tips to plan your perfect vacations with a full-time job to do.
Connect with them – Twitter, Facebook
4. Sandeepa & Chetan
Sandeepa is an Electronics Engineer and Chetan runs an advertising and design background. We love the simplicity of their blog. You have to check the mesmerizing photos which they have clicked. They also have probably just started with Round the World trip and you would love to read on how they sorted out the complex visa process and read about their trip.
Connect with them – Twitter, Facebook
5. Zara and Ashray

They are the A to Z of travel. An Indian boy with a half-Portuguese-half-Spanish partner is on a mission to circle the globe – for free. Ashray, a software engineer, and Zara, a former production manager, met in Dubai and left on a jet plane on an incredible journey. For them travel is the true test of their love. To learn a little more on what to do or even where to go, check out their blog.
Connect with them – Twitter, Facebook
6. Param & Shikha
They are a film-making couple. Shikha directs. Param shoots. Apart from movies and photography, they love travelling, nature, wildlife, great food, culture, interestingness. So it's but natural this blog was on their minds, and they finally got around to starting it and make it live asap. They were recently featured here in the Travel & Living Magazine which is a great achievement in itself.
Connect with them – Twitter, Facebook
7. Meenakshi J and Jey Sushil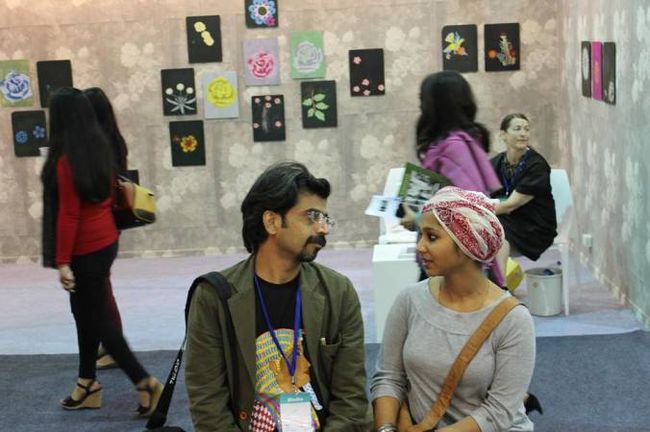 This special couple deserves a special mention on the list. They have been on a journey of purpose around India. Meenakshi is an artist who wants to bring art galleries to homes and hearts of common people. Sushil is a storyteller and together their chemistry of colors and words has brought the happiness to all the places they've travelled to. Read more about travel with Meenakshi and Jey.
Connect with them – Twitter, Facebook
8. Rituraj & Shreya
Rituraj and Shreya, an adventurous Indian couple with Travel Genes who enjoy travelling the world, sharing stories from the roads less taken and often missed. They have taken every opportunity to be on the road without quitting their jobs and make the transition from Cosmetic Dentist – English School Teacher to laid back world travelers.
They have shown how you can travel the world without burning a big hole in your pocket, you can hang out in a country where you know no one & have life-changing experiences, you can travel with the one you love & have a lively relationship, and you can create a strong lifelong bond with your children through the shared memories of travel.
Connect with them – Twitter, Facebook
9. Ram & Reshma


One of the best way to travel across the length and breadth of India is on a motorcycle. Here is one couple who have quit their corporate jobs to do just that. If you love to explore India on motorcycle (or even otherwise) then bookmark this blog now. By the way Ram & Reshma- We just loved your domain name.
Connect with them – Twitter
10. Puru & Ekta
Shadows Galore is a weblog about Travel, Photography, Lifestyle and Community Partnership. Here, you will find travelogues, travel tips, photo essays, photography lessons, book reviews, film reviews and much more.
Connect with them – Twitter, Facebook
Be like them, follow your wanderlust, travel to the farthest places with traveldglobe and get a chance to feature on our next set of Top Couple Travel Bloggers.
Do comment and share. You can also share your story with us .