October 2nd is the day that signifies the birth of Mahatma Gandhi, the Father of the Nation. It is the day when Mohan Das Karamchand Gandhi or in less complex words Bapu was born in 1869. Mahatma Gandhi not just only the most memorable patriotic hero, but also gave his everything from soul to heart to bring independence and justice to this country.
The day is celebrated as a National Holiday in our country i.e India, thus there are some places which are purely dedicated to Gandhi Ji. We, traveldglobe crafted down a list of those places for you which you should visit to pay tribute to The Father of the Nation and learn more about him.
1. 
Porbandar – Birth Place of Mahatma Gandhi
Porbandar, the birthplace of Mahatma Gandhi is situated at the end of Saurashtra (Gujarat State) and is a picturesque seaport on the Arabian Sea. To commemorate the birth of Gandhiji a 79 ft high imposing building has been built in the lane where Bapu (as Gandhiji is known) was born in 1869.
The prime attraction is the Kirti Mandir. It is a three-storeyed ancestral house of Gandhiji wherein the exact place where Putlibai, Gandhiji's mother, had given birth to Gandhi, is marked with a 'swastik'. A narrow wooden staircase leads the visitor to the upper storey, in particular, Gandhiji's reading room.
Behind Kirti Mandir is Navi Khadi, where Kasturba, Gandhiji's wife was born.
The new building adjoining Kirti Mandir, houses a Gandhian Library, a prayer hall, a nursery and a steeple decorated with episodes from Gandhiji's life.
How to get there – Porbandar is easily reached from Ahmedabad. Ahmedabad is well-connected by air and rail from Mumbai and Delhi. There are direct train and air services from Mumbai to Porbandar.
Best time to visit – October to March.
2. 
Sabarmati Ashram
Sabarmati Ashram formerly known as Satyagraha Ashram was witness to many historical events that shook up the British Empire. Set up in 1915, the Ashram was also a perfect example of a model community based on rules and values.
It is situated about 5 km from the centre of Ahmedabad, (Gujarat State), on the west bank of Sabarmati river.
The main attraction:Gandhi-statue-at-Sabarmati-Ashram
The Ashram premises houses a museum, which has five units – office, library, two photo galleries and an auditorium. It is perhaps having the largest number of original manuscripts of Gandhiji's letters and articles.
The museum has eight life-size colour oil paintings and an exhibition on Gandhi Ji's life "My life is my message" and "Gandhi Ji in Ahmedabad". An archive is also set up, which stores 34,066 letters written by Gandhiji, manuscripts of his 8,633 articles, negatives of 6,367 photographs, 134 reels of microfilms of his writings and 210 films on Gandhiji and the freedom struggle.
The library has over 30,000 books, 155 letters of felicitation received by Gandhiji besides miscellaneous memorabilia comprising coins, postal stamps and the like.
The Ashram is open from 8.30 am to 6.30 pm throughout the year and admission is free. For school tours and large groups, it is advisable to inform the Ashram so that a guided tour (free of charge) can be organised.
How to get there –  Ahmedabad is easily reached by train and air from Delhi and Mumbai.
Best Time to visit –  October to March.
The Agakhan Palace Pune is a national monument of India's freedom movement. Following the launch of Quit India movement in 1942, Gandhi Ji, his wife Kasturba, his secretary Mahadevbhai Desai were interned at the palace from August 9, 1942, to May 6, 1944. Mahadevbhai and Kasturba passed away while in captivity at the Agakhan palace and their samadhis are located on the campus. Situated near the River Mula, the palace is a simple memorial to Gandhi and his life.
Tourist attraction – The palace has developed into a national and international place of pilgrimage with over a lakh of visitors every year who come to pay homage to the samadhis here. The palace is surrounded by a sprawling garden. The famous movie 'Gandhi' was shot here.
When to visit – The place is open on all working days except national holidays.
How to get there – Pune is at a distance of 200 km from Mumbai and is well connected by train and air from within and beyond the state of Maharashtra. There are regular Maharashtra State Road Transport Corporation (MSRTC) buses as well as private buses to Pune. For transport within Pune auto rickshaws, buses and taxis are easily available.
Best Time to visit –  October to March.
Timings –  9 am to 6 pm (Lunch break: 12.30 pm to 1:30 pm)
Entry fee – Rs. 5/- for adults and Rs. 2/- for children
4. National Gandhi Museum, Delhi
After the tragic assassination of Mahatma Gandhi, a need for a museum which could be a glance into his eventful life and work was felt. The National Gandhi Museum is the result of this urgent need for a place which could be home to the many manuscripts, photographs, journals, manuals, books and all that which could be a perfect memorial for the Mahatma.
Set in the Government hutments in early 1951, it was shifted to the old mansion at 5, Mansingh Road in mid-1957. From there it was shifted to the present place just opposite to Rajghat, Gandhi's Samadhi at New Delhi. The two storey Museum was formally inaugurated by Dr Rajendra Prasad, the first president of India, on January 30, 1961.The Museum was named 'Gandhi Memorial Museum' now known as 'National Gandhi Museum is one of the biggest Gandhi Museums in India.
The Museum has a very rich collection of relics, books, journals and documents, photographs, audio-visual materials, exhibitions, art pieces and other memorabilia closely connected with Mahatma Gandhi. It is also developing into a centre for the availability of Gandhian and allied literature, and for select publications, and studies and information on the 'Collected Works of Mahatma Gandhi'.
The Museum has the following main sections :
Galleries and other displays for visitors, Library and publication, Photo section, Audio-visual section, Gandhi literature centre, Special exhibition
How to get there – Delhi being the capital of India is well connected by air and rail with the rest of the country.
When to visit – Museum 9.30 a.m. to 5.30 p.m. (Closed on Mondays, 2nd Sunday of the Month, Administration and Gazetted Holidays)
Best time to visit – October to March.
5. 
Rajghat


The mortal remains of Mahatma Gandhi were cremated on this spot on the west bank of the river Yamuna on the evening of January 31, 1948. 
A simple open platform inscribed with the Mahatma's last words, 'Hey Ram' (Oh God) is set in a garden with fountains and a variety of exotic trees.
How to get there – Delhi being the capital of India is well connected by air and rail with the rest of the country.
Best time to visit – October to March.
6. Gandhi Teerth
'Gandhi Teerth', is an international centre for Gandhian study, research and dialogue, initiated and promoted by Gandhi Research Foundation. Its core objective is to preserve and promote for posterity the Gandhian ideology and legacy.
Gandhi Teerth is a magnificent 65,000 square ft. sustainable structure located at Jain Hills, Jalgaon, Maharashtra, India. The premise is beautifully landscaped with sprawling lawns and is adjoined by mango orchards with seated sit-outs and serene walkways. The entire green complex nestles between 300 acres of lush, afforested hilly terrain, and is noise-free and pollution-free. Residential facilities for researchers and guests are housed within the complex. The edifice is built under green norms to last for many centuries.
Silent features of Gandhi Teerth
Gandhi-Teerth-TourGandhi-Teerth-visitors
GRF was inaugurated on 25th March 2012 by the President of India, Pratibha Devisingh Patil.
A magnificent 81,000 square ft sustainable structure scientifically built in Jodhpur stone, under green norms, to last for centuries.
Situated on the lush green, noise and pollution free afforested terrain of Jain Hills. Set within a beautifully landscaped garden, sprawling lawns and mango orchards.
Winner of the GRIHA Adarsh Award and Artists in Concrete Awards Asia Fest 2013-14.
The largest audio guided air-conditioned museum in the world based on the life and works of Mahatma Gandhi.
Audio available in three languages-Marathi, Hindi and English.
Museum has more than 30 sections equipped with Touchscreen, Bioscope, Digital Books, 3-D Mapping and Animation, amalgamating different modern technologies.
It takes 2 hours 30 minutes to visit the Museum. Guides are available with each group.
A hyper-realistic statue of Gandhiji, spinning in real time, can be seen by the visitors.
An Auditorium and an Amphitheatre, both accommodating 250 persons and equipped with all modern facilities.
Four spacious meeting/classrooms.
Souvenir Shop equipped with books, Khadi Clothes, Gift Items and handmade items.
Library and Archives for researchers and preservation.
A Food court for refreshments.
Comfortable guest house facility for outstation visitors.
Added attraction of Boating, Horse, Camel and Bullock cart rides.
Battery operated Car, Photographers and lockers available.
Situated 8 km from Jalgaon railway station, 55 km from Ajanta Caves, 140 km from Ellora Caves and 160 km from Aurangabad airport.
How to reach – The Museum is located at Jalgaon, Maharashtra which is well connected by road and rail to the rest of India. The nearest domestic airport is Aurangabad (160 kms/99 miles). Nearest international airport is Mumbai. Road distance between Mumbai and Jalgaon is approx. 415 kms/257 miles.
7. 
Sevagram Ashram
Sevagram, located near Nagpur (Maharashtra State), was Gandhiji's headquarters and place for experiments from 1934 to 1940. He lived as the villagers lived i.e. without electricity and telephone and built the Ashram house himself with materials available locally. One can see Bapu's kitchen in this house.
The first hut built in the ashram was Adi Nivas around which was a prayer ground.
One can see Ba Kuti and Bapu Kuti, residences of Kasturba and Gandhiji respectively.
Akhiri Nivas (last residence): Gandhiji lived here for a few days before leaving for Noakhali and never returned. The weighing machine he used is preserved here.
Parchure Kuti: Shri Parchure was a Sanskrit scholar and a construction worker who was afflicted with leprosy. Gandhiji took care of him in his hut.
Mahadev Kuti: Residence of Mahadev Desai, Gandhiji's secretary
Kishor Nivas: The only house to be built with bricks and cement it was the residence of Kishorlal Mashruwala, a close associate of Gandhiji's and part-time editor of the Harijan Weekly.
Rustom Bhavan : This was a four-room guesthouse.
The Government established a photo exhibition on Gandhiji in 1991 and built Yatri Nivas in 1982 for the benefit of visitors and for holding training camps and conferences. There is also a Nai Talim Hall – an adjoining area for basic education premises.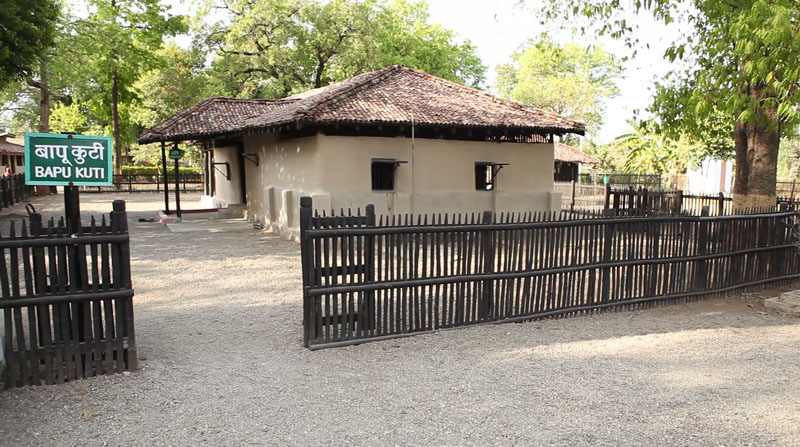 How to get there – Sevagram is 75 km from Nagpur station and one can go from Delhi by train to Nagpur and then on to Sevagram. Road transport to Sevagram is easily available from Nagpur Station.
From Mumbai, one can go by train up to Wardha a distance of 750 km. Sevagram is 8 km from Wardha Station and road transport is easily available.
Best time to visit – October to March.
8. Mani Bhavan Gandhi Museum
This special place is dedicated to Mahatma Gandhi. Located in downtown Mumbai, this was the headquarter from where Gandhiji initiated the Non-corporation movement, Satyagraha, Swadeshi, Khadi and Khilafat movements. Recently, US President Obama visited Mani Bhavan Gandhi Sangrahalaya , the tourist spot to check out the history and beauty of this place.
The main attractions – 
Mani Bhavan is considered as a Research Institute in Gandhian thought and Rural Development for post-graduate students.
The library on the ground floor houses about 50,000 books by and on Gandhi and related subjects, in the reference and lending sections.
On the first floor is the auditorium where films on Gandhiji are shown from time to time and recordings of his speeches are played on request. There is space for holding meetings, seminars, discussions and various competitions for school and college students arranged by the Gandhi Study Circle.
A room on the second floor, which used to be Gandhiji's living room and working space, has been preserved as far as possible in its original setting.
Adjoining this room is another room housing an exhibition depicting Gandhiji's life and his struggle for India's freedom with the help of mini figures, in 28 tableaux, which have been made and arranged by Smt. Sushila Gokhale-Patel.
The rooms on either side of the exhibition in mini-figures have been turned into picture galleries, which give glimpses of Gandhiji in Mani Bhavan and important events in his life.
At the sales counter near the entrance hall, are sold Gandhi Postage Stamps, Photographs, Gandhian Literature, Statues, Medallions, etc.
When to visit – Mani Bhavan is open on all days from 9.30 am to 6.00 pm.
How to get there – Mumbai being the industrial capital of India is well connected with the rest of the country by rail and air. For local transport buses and taxis are easily available.
Best Time to visit – October to March
9. Gandhi Memorial Museum, Madurai

The Gandhi Memorial museum at Madurai has been built and organised by the Gandhi Smarak Nidhi. it was in Madurai, in the year 1921, that Gandhiji adopted for the first time the loin cloth as his mode of dress which made him known throughout the world as the "Half Naked Fakir". It was in Madurai again that the doors of the great Meenakshi Temple were thrown open to Harijans, thus winning a historic battle against 'Untouchability'. Gandhiji visited this temple in 1946 along with the Harijans as a triumph for the cause of Harijan Temple Entry.
It was in 1955 that the palace with about 13 acres of land was gifted by the Tamil Nadu State Government, to the Gandhi Smarak Nidhi for the purpose pf housing Gandhi Memorial Museum.
The picture Gallery presents a visual biography of Gandhiji.
The Museum may broadly be divided into the following sections:
Special Exhibition on "India" Fights for Freedom" with 265 illustrations, depicting the history of the Freedom Movement, greets you first.
Then follows the exhibition of the choice specimens of Handicrafts donated by the states of Tamil Nadu, Mysore, Andhra and Kerala. 
This leads to the Pictorial Gallery depicting a visual biography of Gandhiji by means of photographs, quotations, paintings etc and some of the selected Photostat copies of many of Gandhiji's letters.
Then you enter 'The Hall of Relics' where some of Gandhiji's personal belongings (original and replicas) are preserved.
Lastly, you come to the Khadi and Village Industries Section in the ground floor of the building, where you come across the Exhibits of some of the Village Industries, which Gandhiji revived.
To the south of the building is a big open-air theatre with a capacity to accommodate about 8,000 people. Cultural programmes, weekly film shows and public meetings on special occasions are held in this theatre.
In front of the main building, a little towards the south, there is "Gandhi Kutir"- a replica of Gandhiji's hut in Sevagram.
The northern wing of this building houses the Library, which contains books giving the cultural background of India, books on and by Gandhiji and allied literature. There are about 20,00 volumes in the library. Photostat copies of about 2,70,000 letters of Gandhiji and 62 reels of Microfilms are the very important and valuable part of the collections in the Library.
Five study alcoves have been provided on the first floor of the Library for Research Scholars. Readers forum and Book Review Meetings are held periodically in the Library. A research section is also functioning, books are also published.
If you know a place dedicated to Mahatma Gandhi which is not a part this list then comment below and will update the list in a blink.
Please tell us more about the article in the comment section below and yes do like and share.