New Delhi nicknamed as Dilli, Capital City of India is one of the most enthusiastic & happiest metro of all with full of day and night life. Delhi is full of bars, cafes, malls, cultural spots with no end to interesting places you can spend your day which will fill you with joy and many more. From Paranthe wali gali to Hauz Khas village or Great India Palace to Adventure Island, Delhi has everything you need. 
Young blood these days always hunt for new thrilling places to hangout with friends. When you are at the right place with the right people (friends) long hours just turn to couple and time flies.
Here is a list of 10 Awesome and Most happening places you must visit in Delhi with friends.
1. Sportzcraft Inc.
SportzCraft Inc. is a non-profit organization which is a direct affiliate of the National Rifle Association of India (NRAI), the apex body of Shooting Sports in India. SportzCraft Inc. is the pioneer in the setup of 10M Shooting Ranges across India. They are the organizer of the Biggest Annual Shooting Championships in India. 
They have a Casual Shooting Package which includes Basic Weapon Training, Pellets & Targets. One Session of 30 Shots will cost you around 300 INR. Pretty reasonable to for shooting with all professional gear.
Nearest Metro Station : Shivaji Park Metro
Looking for a Bird Eye View of Delhi?
2. Delhi Eye
Delhi Rides is a well known amusement park which has a lot of entertainment options for the entire family with its huge variety of activities. The place has a wide array of activities for the parents and children to experience together through whirling rides and a water park. It is absolutely an ideal place to spend a day at leisure amidst friends and family. 
The main attraction of the park is India's highest giant wheel – "Delhi Eye", the amusement park has given a brand new definition to adventure. This 200 ft Giant Wheel surely holds the attraction to pull masses by offering never-seen-before views of almost half Delhi.
Nearest Metro Station : 
Jasola Apollo
3. Indian Mountaineering Foundation
Bored of films, food and coffee? Then head to one of the most fun places in Delhi – the Indian Mountaineering Foundation! Famous for adventurous and fun activities in Delhi, the sport climbing wall should definitely not be missed! It has anything and everything you would want to do on a 'fun'tastic day out.
Nearest Metro Station : Dhaula Kuan(Airport Line)
4. Bulldogs in Hauz khas


The ambience – exemplary! So much so that you would want to take a tour of the place to check out all the interesting posters they have put up. This is one of the more expensive places to hangout in Delhi but if you have the cash you should go for it!
What's Hot?
The concept of offering alcohol through a bar exchange rate system. There are a couple of dishes which are insanely delicious. One is Peri Peri chicken, second is the baked chicken nachos. If you're up for 'not so expensive good food and drinks' then this is the place.
Nearest Metro Station : Green Park(Yellow Line)
5. Cha Bar Cafe in Connaught Place
Image: www.zomato.com
Want to spend some time alone and have nowhere to go? Well, not anymore! Though cafes are passé, but book cafes make for one of the most unique places in Delhi to chill. Imagine spending a quiet afternoon sipping on a cup of tea or coffee, munching on a cake, reading through a riveting book – a day well spent!
One of the best places to visit in Delhi for fun, with over 100 types of teas and all the Oxford books, Cha Bar is the bookworm's heaven.
Nearest Metro Station : Rajiv Chowk
6. Boheme at Vasant Vihar
The owner had put in a lot of thought while decorating because the decor truly reflected a casual, chill, boho and quirky vibe. I would want to mention that the music here is downtempo which complements the atmosphere of the place.

What's Hot?
Visit this place for the most unusual cuisines and delicacies. There are many places to hangout in Delhi but none like this small quiet introvert heaven that is Boheme.



Nearest Metro Station : Dhaula Kuan
7. Lock 'n' Load Paintball in Subhash Nagar
Everyone of you looking for a new activity to do with your friends after tiring season of exams and results. Everyone wants to hangout with friends in the city but this killing summer doesn't leave much option for you. You can go for paintball in Subhash Nagar Mall. 
Although paintball is present from a long time and it is out of trend nowadays but it is still better than roaming on the streets in this summer. Although there are other places where you can do paintball game like Rockshot Paintball Sports for all American style camo and Rockshot Paintball. It is amongst the fun things to do in Delhi with friends.
Nearest Metro Station : Subhash Nagar
8. Smaaash at DLF Cyber City
Image: 

https://apnacoupon.com

There aren't enough gaming arenas in Delhi. Ask any hardcore gamer and they'll launch into a long tirade on the subject. There are arcades with the regular snooker, air hockey and foosball, but visual simulators? None.

Enter Smaaash. The 47,000 sq.ft property is virtual paradise for gamers and sports fanatics alike. We're talking cricket simulators, goalkeeping and racing. They even house regular arcade favourites such as snooker and bowling.

Now for the cherry on this sundae – their virtual reality experiences. A mix of motion & positional tracking, in addition to head mounted displays and superior quality graphics make you feel like you're right there. There's adventures such as Fly Max, Face Ronaldo and Walk The Plank.

We believe there's an inner child in all of us that needs to be indulged once in a way and Smaaash is the perfect outlet for that child. There's variety to explore, skills to test and competition to play out.

Nearest Metro Station : IndusInd Bank Cyber City Rapid





9. Route 04 in 
Connaught Place
Image: http://www.thezine.biz/
First impression when you enter the place is Woah! Did you just enter a museum? but then you start relating to each and everything that's exhibited there with the name Route 04. Totally worth every effort that you would make, if any, to visit this place at least once while you stroll around in CP.
What's Hot?
You will became an instant fan of the songs they played. Not to mention there is a big
bumblebee action figure from movie – The Transformers.
Nearest Metro Station : Rajiv Chowk
10. Freeze Lounge in Rajouri Garden
Global fare and cocktails offered in an intricate space made of ice, plus a separate stylish lounge. The interiors are nicely done and to have ice chairs and glasses at 45°c is uniquely awesome. Ambiance of the place is superb and they serve delicious food.
What's Hot?
-10 degrees in this hot-n-humid weather, what else do you want? 
Nearest Metro Station : Rajouri Garden (Blue Line)


11.  Evenings in Hauz Khas
Hauz khas is hosting the diversity that is best enjoyed with the friends, making it the best hangout place in Delhi. Hauz Khas has become popular among the delhites for its glamourous and happening evenings.
The lanes of Hauz Khas are dotted with cafes, bookstores, art galleries and places to excite anyone. Do not miss any chance to experience the happening evenings in the lanes of Hauz Khas, either go with your friends or girlfriend, this is palces for the youngs.
https://www.shopkhoj.com
Nearest Metro Station: Green Park(Yellow Line)
12. Paranthewali Gali, Chandni Chowk
The hot spot for the foodies right at the center of Delhi.  The busy streets in Chandni Chowk area of Delhi, serves some of the famous dishes and street food. The 'Paranthe wali gali' is the most famous spot in Chandni Chowk. Take your friends and your loved ones here and have the best of the spicy street food in Delhi.
Nearest Metro Station : Chandni Chowk (Yellow Line)


13. Adventure Island Rides in Delhi
If you are bored of cafes and gardens, Delhi has something to offer the adventure freaks as well. The thrill at north edge of the Delhi is unmatched. Be it your friends or family, Adventure Island in Rohini has all the thrilling rides to offer, this would be the best amusement park experience you can imagine.
What's Hot?
The special water park is set up during peak summers only
Nearest Metro Station: Rithala
14. Garam Dharam Restaurant


With an earthly charm of village huts, posters of his iconic movies and memorable dialogues, a restaurant inspired by veteran actor Dharmendra transports you to the era of the actor's superstardom. The delightful place with spicy food is definitely a must visit to go out with your foodie friends. 
'Dharam Garam- Dhaba Te Theka', has everything from the decor, to the cutleries and even the walls framed movie posters, giving tribute to the legendary actor. 
Nearest Metro Station: Rajiv Chowk(Yellow Line)
15. Dilli Haat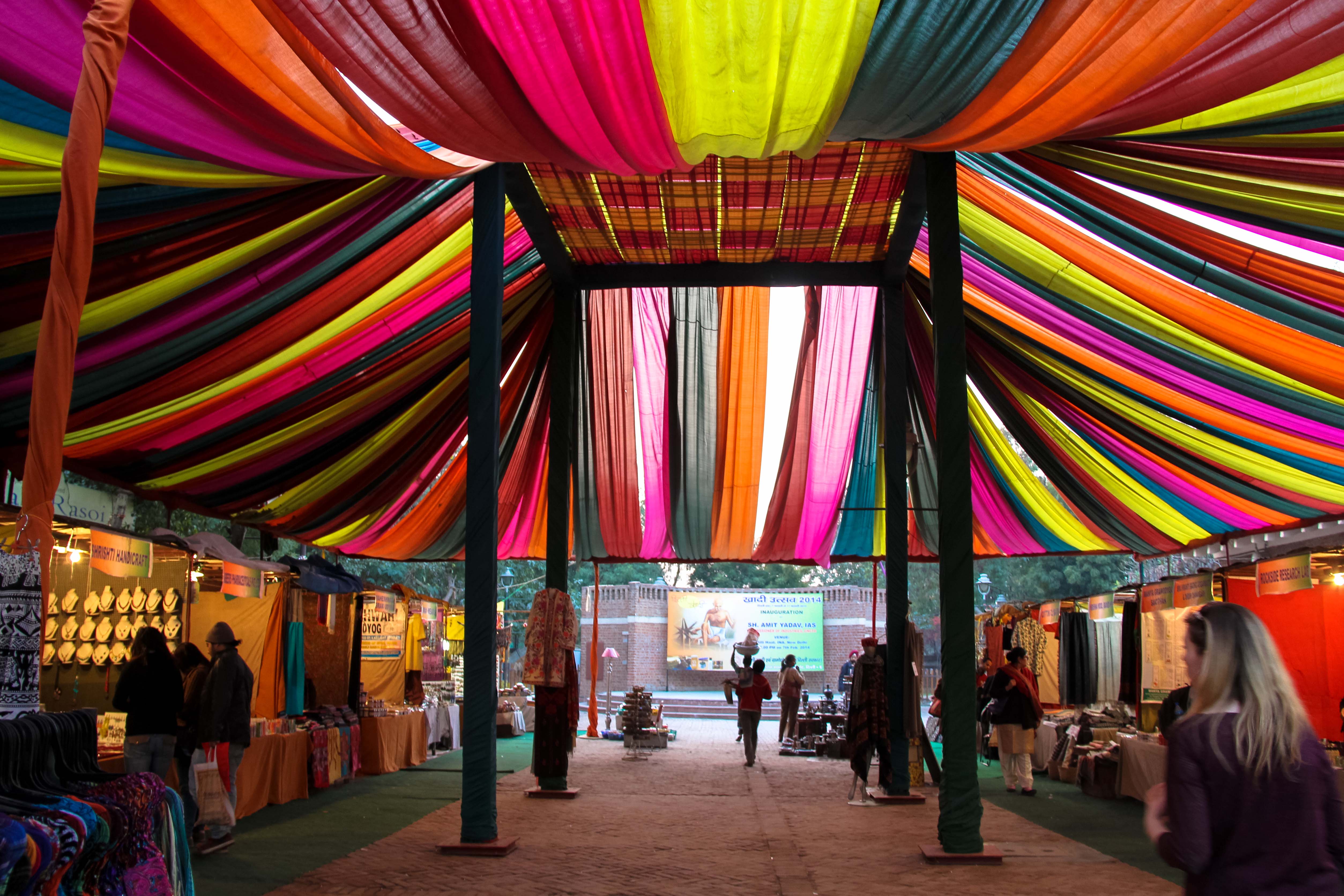 Image: 
eattreat.in
This place is a walking tour of Indian culture. Shop for all the ethnic wear you wish, overload your bags with beautiful pieces of handicraft or just enjoy the weather while having a badam kulfi. There are food stalls dishing out scrumptious delicacies of different states of India.
If you make an unplanned trip to Dilli Haat you might bump into a fancy exhibition or a dance/music performance.
Nearest Metro Station: Netaji Subash Place (Red Line)
Nearest Metro Station: INA (Yellow Line)



Oh, and if you end up going to any of these places do share and comment your experiences with traveldglobe. In case we have missed any places to visit in delhi do let us know by commenting below.