Most of the people don't know that India have the second longest road network size in the world, yes we are ahead of China and Russia. These roads in India are the best sometimes dangerous for those who want to go on road trips full of adventure. One of the best ways to cover these roads in India is to hire a cycle and go on a Cycling tour in India. This way, you will help the environment, get loads of exercise and also manage to be part of a thrilling adventure. India is blessed with its diverse culture and geography and one can explore all the various places here by cycling through the streets. No traffic, no pollution and no expenditure on petrol either.

Given below is a list of 10 Best Cycling Tours in India that must be explored by cycling at least once in a lifetime.
1
. Leh To Khardung La
source – voompla
You get to see well-known ancient monasteries, other religious sites, Palaces of the royalty, various gompas, mountain peaks, wildlife safaris, adventure activity spots and much more. Ladakh is unique with a blend of Indian, Tibetan as well as Buddhism to make it a place which is worth paying a visit to.
Leh and Ladakh – Located in Jammu and Kashmir and primarily considered the motor biker's paradise, Leh and Ladakh cycling tour can be a blessing for cyclists too. The rides are not for the weak-hearted, mind you. The curving lanes, the scenes, the crisp mountain air and the heavenly scenery just add to the thrill. There are Leh and Ladakh cycling tour packages for cycling enthusiasts and if you haven't explored Leh-Ladakh on a cycle, you've seriously missed out on something in life!
If you don't have a bike : there is no need to worry if you do not have a bicycle, you can always rent a bike in leh ladakh.
Remember: Inner line permit is required to visit Khardung La and Nubra valley so please ensure that you procure it before starting from Leh
Suggested Route: Leh – Khardung la Pass – connecting Nubra valley
Best time to visit: April to June and September to October
2. Munnar To Annamalai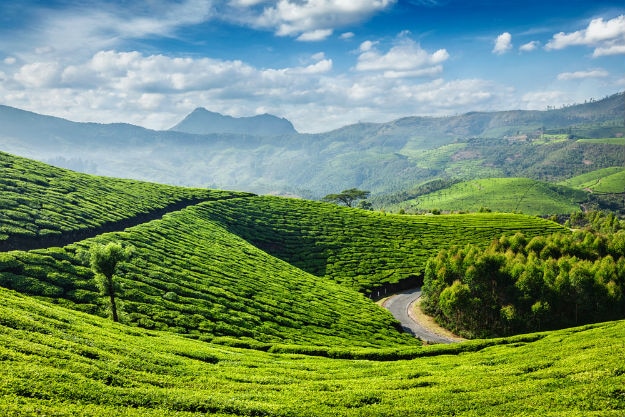 source – india.com

Sprawling tea plantations, picturesque towns, winding lanes and holiday facilities makes Munnar resort town.
Munnar also has the highest peak in South India, Anamudi, which towers over 2,695 m. Anamudi is an ideal spot for trekking in Munnar. Surrounded by abundant green trees and mountains, this hill station is simply breath taking and cycling through the quaint roads of this place is altogether another experience.
Among all the flora, here is the Neelakurinji. This flower which bathes the hills in blue once in every twelve years, will bloom next in 2018. You can be lucky to witness it.
If you don't have a bike: Rent a bike in munnar , the fares will be affordable.
Suggested Route: Munnar- Madupetty- Kundala- Perumala- Kanthallore- Marayoor- Amarvathy – Palani- Anamalai
Distance: 210 km (Approx)
Duration: 4 – 5 days
Best time to visit: June to September


3.

Ahmedabad To Rann of Kutch
source – tripadvisor.in

Rann of Kutch – The Rann of Kutch is a salt marshland in the Thar Desert in the Kutch district of western Gujarat. Riding across a flat barren and dried up desert land might not exactly sound appealing but the sights the desert has to offer are unparalleled by anything else. The ride is challenging as the barren soil can test the skill and patience of even a seasoned rider. There are really no roads to follow and you create your own.
Rann Utsav, the shopaholics can indulge in buying authentic Gujarati handicrafts handmade by the Kutchhi people with a variety of options in clothes, bags and other items such as shoes and puppets.
Suggested route: Ahmedabad – Bhachau – Bhuj – Dhordo – Rann
Distance: 400 km (Approx)
Duration: 4 -5 days
4. Jaipur To Jaisalmer



Located in Rajasthan, Jaisalmer is known for its forts, temples and palaces. There's probably no better eco-friendly way to explore this place than on a cycle. All those who love challenges must definitely try cycling through the sandy roads of this state while battling the heat as well. Remember, water is a life saver.

Chokhi Dhani, Jaisalmer Desert Camp & Village Fair, Jaisalmer has been the mirror of Rajasthan's rich culture heritage & spirit of this colourful state.

If you don't have a bike : Bike rentals in Jaipur will be available to you easily. Or a Jaipur – Jaisalmer tour package will provide you with the necessary.

Suggested route: RJ (State Highway) SH 19

Distance:  568 Km

Duration: 4 days

Best time to visit: October to March
5. Bangalore/ Hampi – Hampi and Badami Ruins
source – unventured.com
The bike ride to hampi is breath taking. The ruins are an archaeological site that are simply mesmerising and provide narrow lanes and bylanes to traverse. It may seem suitable to drive past these ruins, easy even, but when you cycle past, marking your track through history, you not only trace your steps with the great kings and their chariots but you soak in the grandiose mystique and magic in the air. The kutcha roads, village-like feel and the ruins in the backdrop call for a ride that will take your breath away.
In front of the Virupaksha Temple unfolds a one-kilometre long street called the Hampi bazaar. The street is surrounded by a set of historical pavilions.
Suggested Route: Banglore to Hampi
Distance: 340 km (Approx)
Duration: 3 days
Best time to visit: october to February
6. Bangalore To Bandipur Forest
source – Yatra.com
The trips are the ones that are taken along the forest and water, the natural beauty. The Bandipur Forest route to Bangalore is one of the most beautiful trips through forests in India, that you'll ever take. One can take the same road to Ooty from Mysore passing through Bandipur National Park. You might spot deer nonchalantly crossing the road. There's no better manner of paying your respects to this charming highway!
Safaris into the park and you can also visit Venugopala Swamy temple at Himavad Gopalaswamy Betta, this hill is the highest peak in the Bandipur national park.
Suggested Route: Bangalore – Channapatna – Mandya – Mysore –  Bandipur
Distance: 230 km (Approx)
Duration: 3 days
Best time to visit: March to June – July to September
7. Gangtok To Kalimpong
source – unventured.com

Sikkim – Sikkim, a landlocked state in Eastern India, located amidst the Himalayan ranges is known for its rich culture and majestic views. Cycling besides the Changu lake and exploring the local markets of this state through this rather adventurous way could be quite an experience.
Suggested Route: Bagdogra, Gangtok, Rumtek, Temi, Yuksom, Pelling, Rinchenpong, Darjeeling
Best time to visit: March to June
8. Shimla To Manali
Manali – A very touristy place, the passes of Manali can be extremely challenging for your cycle. The sights and the snow will make you never want to stop riding! All the while, the curling Beas river will play alongside making you want to rush and dip your feet in the cold, clear water. It is an amazing, amazing ride. Just gear up and set off!
Pandoh Dam is in the way from Shimla to Manali a place on the bank of river Beas. it has 2 national parks- Van Vihar and Pin Valley National Park. Tourist spots are River Beas, Rohtang Pass, Solang Valley, Jogini Waterfall, Beas Kund etc.
Distance: 223 km (Approx)
Duration: 5 – 6 days
Best time to visit: March to June
9.

Western Coastline From Mumbai To Goa




This can be one of the most arduous journeys at times while at others, it can be simply leisurely. The cycling trip along the Western Ghats is a mixed bag with each goodie better than the previous one. The serene coastline, virgin beaches, delicious local cuisine and twisty roads…  Ride along one of the most scenic coastal route of India; you get to see local life at close quarters, stopping at fishing villages and untreaded destinations. What more can any cyclist ask for?

Suggested Route: Mumbai – Alibaug beach – Murud-Janjira – Harihareshwar – Harnai beach – Dabhol Takaleshwar – Jaigad fort – Ganpatipule – Ratanagiri – Thibaw palace – Vetye beach – Kunkeshwar – Goa

Distance: 600 km (Approx)

Duration: 4 -5 days

Best time to visit: October to January

 
10. Valleys of Uttarakhand
Uttarakhand houses some of the prettiest sights in our country but nothing gets better than cycling your way through the valley of flowers. A day away from all the city traffic and noise is all that you need to feel peaceful and refreshed and so you can choose any of the Uttarakhand cycling tours that suit you.
people who have already done mountain biking know how exhilarating it is. The moment you sit down on the saddle and started pedalling, it will be an obsession for you to perfect the art of mountain biking. The Great Indian Himalayas enclose some of the best cycling escapades that a cyclist looks for in its adventure trip. Himalayan Biking in India works as a pretty good adventure experience for those who love to explore the unbeaten tracks and not so frequently visited paths
Suggested route: Rishikesh – New Tehri – Dharasu – Uttarkashi – Bhatawari – Harsil – Gangotri – Gangnani – Uttarkashi – Barhmakhal – Barkot – Nainbag – Mussoorie
Duration: 10 – 12 days
Distance: 483 km (Approx)
Best time to visit: March to June
11. Tirthan Valley
source – tripoto.com

Tirthan is a destination that offers something for everyone. this beautiful valley is suitable for trekking, fishing, bird watching, and discovering under-explored hill villages. The great Himalayas with snow covered tops looking over the Tirthan River, this valley is best known for its trout fishing and for surprisingly high rate of visiting foreigners.
The riverside retreat, cloud kissed mountains, hidden water falls, scenic roads and what not are ideal for wandering around on a cycle and let the freshness seep into your body. Tirthan valley is great for those holiday makers who seek adventure as well as peace.
Suggested Route: Aut to Gushaini

Distance: 28 km
Duration: 2 – 3 hours

Best time to visit: March to June and October to November
12. Bir Billing
Bir Billing is famous as 'Paragliding Capital of India'. Mountain biking or cycling tour in Bir are not the only adventure options available. Bir is located in Himachal, so mountain biking here is quite adventurous. Bir-Billing is at the altitude of 4450 ft. from sea level. Mountain biking trails till the altitude of 8900 ft from sea level.

Palampur and Bir billing are similar tourist destinations. As you biking from Palampur to Bir-Billing, you can observe the change happening in the valley.

Suggested Routes:  Jhatingri to Barot – Kothikod village – Badagran village – Raj Gundha – Channa Ghat – Billing
Best time to Visit: Mid September to Mid July


Inside your Back pack:
Essential things to pack while going on a cycling trip :
1. Water
Water has got to be your number one essential necessity. You can't assume that the shops will be open, or that you'll be anywhere near one when you need water. So carry plenty of water and whenever you get the chance to refill those bottles.
2. Food
The next thing in your bag has to be food because there's nothing worse than experiencing hunger while doing such an exercise as cycling through mountainous terrains.
3. Padded shorts
If you're going to spend hours paddling, you are gonna need to be in comfortable clothes.
4. Pump, puncture repair kit
What if the cycle gets a puncture or a flat tyre? You need to have a pump and glue , tube  to repair a puncture.
5. Spare inner tubes
Because pushing your bike home or onto the next place to stay with a puncture is never fun, don't just rely on patching up your inner tube – you might need to swap it over.
6. Rain jacket
It's a must to prevent yourself from getting wet in cold, cold rain if you are going somewhere rainy or cold.
7. Phone
A mobile phone is our lifesaver. Do not forget it for in case of emergencies. Also it helps with GPS and map reading.
8. A map
You shouldn't totally rely on electronics, keep a map and be sure to read it correctly.
9. First aid kit
And just as importantly, a decent knowledge of how to use it just in case.
10. Cash as well as cards
Keep cash and cards both as you don't know what you may need.
11. Dry bags or bin liners
Keep dry bags or bin liners if your back backs aren't that waterproof to help keep clothes and other things dry in rains.
Note : these are the essentials and you can add more things as per your requirement but don't forget these.
So, the next time you make a trip to any of these places, do consider cycling your way out for a fun yet unique experience.