Alex Chacón, the 28 year old, University of Texas Graduate and medical student who sold all his belonging 3 years ago to travel around the world on a motorcycle across 200,000+ Km, 41+ Countries, 75+ borders and 5 continents to work directly with and raise awareness for charitable causes. He is a Social Media Influencer, YouTube Talent, Video Producer, Professional Photographer, Inspirational Speaker, Global Motorcycle Adventure Rider and International Traveler/Blogger.
Alex is the most recognized Motorcycle Adventure Rider in the world, Selfie Expert and international traveler/blogger/social influencer in his Millennial generation, credited as having taken the "Most Epic Selfie of 2014" according to CBS News, Google Zeitgeist, Time Magazine, CNN and Fox News, He has inspired millions and has created trends that have shaped an entire generation like the 360 Degree Selfie, and the Dronie ( Selfie + Drone=Dronie).

Alex visited India and took a road trip to Khardung La, the highest and the most dangerous motorable road in the world on India's probably most respected motorcycle Royal Enfield and has managed to captured the journey in these stunning images and video with so many GoPros.
This is not all. The beautiful video created by Alex on his journey from Jaipur to the highest road in the world, Khardung La is also featured on GoPro Youtube channel.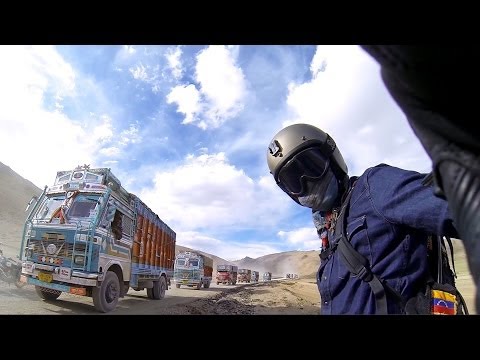 You can get to know more about Alex road adventures on his website or by following him on his facebook, twitter and instagram.
All Image and video by: Alex Chacon
Share this inspiring story of a world traveller and feel the excitement of his adventures.