To experience more joy, have fun I have an advice for people today is to travel more, it doesn't mean to take a vacations or going on trip which is planned before but to go to the places where you have not been before and discovering something new you have never thought of and have to see what opportunities were waiting for you that you couldn't have even imagined of. Travelling is phenomenal in various ways. It captures us with destination to visit, food to eat, meet with different people, an experience of new culture.
In India, if we are looking for paradise in western coast, Goa tops the list. From the glorious sands of Anjuna beach to the electric nightlife of Tito's road there are numerous, magnificent places to visit in Goa, which has become the holiday spot for people around the world. There's the lot to experience at this place that you will find it hard to know where to start from.
With its 100km of glorious coastline, delicious cuisine and rich Portuguese heritage the place has become most loved resort destination. Goa is the smallest state among 29 states in India, but from colonial times, it has attracted holidaymakers across the world. Goa is a mixture of traditional Indian culture which is not found anywhere in India. Goa is one of the richest states in India and has some beautiful beaches all over Asia. Approximately 2 million tourists come to visit this paradise annually.
It is a blend of historic architecture to spiritual sanctuaries which offers you a unique blend of unforgettable, spectacular experience.
Goa's white sand beaches, gorgeous landscapes, happening nightlife, glamorous shopping outlets and detectable seafood. The place has a beautiful beach resort which one can only dream of; these resorts will make your stay and the entire vacation a memorable one. Here is the list of top dreamy beachside resorts in Goa
5/4 star resorts in North Goa
Pausada Tauma, Bardez- This resort is one of the finest luxury beach resorts of Goa, a 5-star property. It is a theme based resort with its stunning ambiance, beautiful decor, and finger licking gastronomically fares. Its uniqueness is it Goan architecture which makes this resort lovely.
Specialty- It's fine dining at copper bowl restaurant; the weather is casual at Pousanda Beach which is in front of a restaurant with a relaxing pool and beautiful beach view.
Tariff– INR 21,000/night onwards.
The Park Calangute, Bardez- this resort is the breathtaking beautiful luxury hotel. The resort compromises of its luxury decor and superior settings. It also has sky bar or the magnificent purple pool.
Specialty- You will get a relaxing massage center at Aura spa, a range of cocktails at peace bar and romantic cabanas at the pool side.
Tariff- INR 9,700/night onwards
3/2 star resort
Sonesta Inns, Candolim- Sonesta Inn offers unique types of villas to stay for budget friendly tourists. This resort is the best place for people who want comfortable stay without spending much of the penny.
Specialty- the Ocean Desk Disc and bar, the Techno gym Health Club and pool side bar and restaurant.
Tariff- INR 5,800/night onwards.
Rococco Ashvem, Pernem- This resort is near to the airport, one of the beautiful resorts of Goa overlooking the Arabian Sea. It is one of the budget friendly places for tourists.
Specialty- Relaxing spa, huge pool overlooking the beach, lounge bar on sea peninsula, and facilities for romantic beach weddings.
Tariff- INR 2,400 per night onwards
5/4 star resort in South Goa
The Leela Goa, Cavelossim- One of the epitome of luxury. This resort offers outstanding customer service; its location is stunning and has state-of – art amenities. If we combine both north and south region of Goa, this resort is the best one.
Specialty- Pampering spas, beautiful pool, lavish golf course, and the exclusive Goan cuisine
Tariff- INR 22,300 per night onwards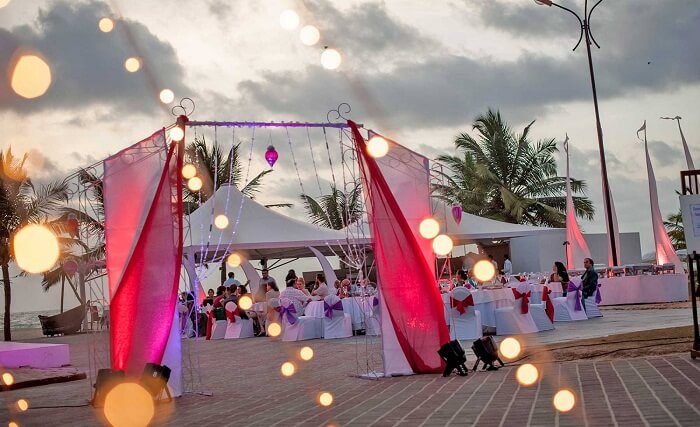 Holiday Inn Resort, Cavelossim- If you want a luxury resort, Holiday Inn resort marks its place in the list with its stunning view of sea and beach. It is known for its huge resort area with equally luxurious room and class of facilities.
Specialty- Exclusive Thai spa and relaxing aroma massage, beach-side candlelit private dining, and Beach Grill dining
Tariff- INR 8,000 per night onwards
3-star resort
La Grace Resort, Benaulim- It is one of the exquisite resorts located near Benaulim, excluded from a chaos of the party-centered Goa. People who are interested in serene stay amidst nature, this is a perfect place.
Specialty- Spacious villas, for a better experience.
Tariff- INR 4,500 per night onwards
Goa offers the variety of things one can imagine of. Come to Goa with the open mind and enjoy its nightlife which you have never experienced it before.