GAUMUKH TAPOVAN TREK
A Golden opportunity is knocking,
The Ultimate grace is descending.
Witness the grand cosmic show.
The eternal dance of Shiva,
On the blissful stage, devoid of Maya.
Divine mother's love and glory,
Is a wonder of a lifetime, an impeccable story.
Certainly, it is a remarkable adventure and a glorious blessed chance to have the longing to go for this trek.
It is one of the oldest treks of our country.
earlier it used  to be counted as one of the most famous treks used to do it extensively throughout the year, but as time progressed and the plethora of avenues opened up inviting people to explore the different terrain,
Gaumukh Tapovan somehow lost its glamour.
yet it remains a beautiful splendid and revered walk up to the source of the Ganges which indeed is a sacred destination.
Time has witnessed, many souls going into a deep trance as soon as they stand in front of the Gangotri Glacier, certainly a mysterious phenomenon.
Many more mystical tales revolve around this region which I shall share with you as we embark and advance along a soulful journey.
Overview
The trek starts its trail from the foothills of the  Himalayas from the town of Dharali.
After 12th kilometer Scenic drives through the mountains, we reach the base camp of Gangotri. The trail takes us through many regions, and the most special part of this route is the walk on the Glacier.
At a terrific altitude of over 12000 feet, with the cruel wind gushing past your face, you stand strong and walk steadily – experiencing yet another adventure tale of the mighty Himalayas.
The campsites too serve as a source of inspiration, energy and wonder as the positive Vibes emanating from the revered Mount Shivling engulfs you in the warmest of manner, instilling stillness peace and tranquility.
A heartwarming journey this,
 we go to the Mountains and stare.
The Mighty Mount Shivling,
A rhythm of destiny's caress.
love & joy the eternal quest.
peace fills the air, illumination on cards.
 Tender fresh fragrance of soil while lying on the grass.
Day 1: En- Route Dharali
Nested among heavenly mountains and deodar forest, dharali is picturesquely set at a distance of 20 km before Gangotri( which is the actual starting point of the Trek the next day).
Gangotri is the starting point of gaumukh and is also called the Bhagirathi river here.
In Indian mythology, several places have been named after happening of certain significant events which serve as a  testimony to the fact.
King Bhaghirath had done fierce penance and invoked Ganga to purify the Spirits of his 60000 sons who were cursed by Saint Kapila on account of disrespectful behavior.
Lord Shiva, requested Ganga to release the waters and purify the Ashes of 60000 sons, making them liberated. This is why Ganga is also called Bhagirathi.
We embarked upon a journey to a mystical magical place, and it took us 12 hours to reach the base come from Dehradun.
The drive in itself was a smooth transition from the plains to the mountains.
As we advance along, the entire backdrop keeps changing only to provide us with better and colorful views.
That evening I spent in solitude, resting by the armchair and Immersing in the silence of these old valleys.
Day 2: Drive to Gangotri, trek to chirbasa.
We started at about 6:00 a.m. in the morning, with the pleasant weather making our journey A comfortable one.
As we drove through the mountain roads, we were simply engrossed in the Himalayan beauty and the excitement furor grew even more as we reached Gangotri.
The astounding, enchanting energy of the Himalayas envelope the very core of your being.
 After half an hour Hike from Gangotri, we reached the first check post where identity is checked.
There are usually multiple routes from Gangotri to reach the forest check post, in any case, it won't take you more than 30 minutes.
The Sudarshan Parvat beckoned us we traversed the trail from the forest check post.
The trail was undulating with steep ascent at the beginning which became flat as we moved ahead.
With the dense canopy cover on either side, with the Bhagirathi river flowing down on our right, and the echoes of bird's chirp reverberating throughout the mountains, it made the moment a sublime one.
Multiple streams ebb down the mountains in their pristine form, calm and understanding in the sanctity of nature.
The total trek for today is 9 kilometers and we have covered about 45% of the trail by now.
we then meet the pine and silver birch trees which lead our way to a clearing multiple snow-capped peaks meet the eye.
We were thrilled to witness a boulder zone near to the snouts of  Sudarshan parvat.
This indeed was challenging Terrain section to cross.
our Campsite for the day, chirbhasa is at a stone's throw from here.
We kept on Flowing with the rhythm of Nature and it led us to a seemingly pretty place, with the Ganga flowing right next to us, it was a romantic delight for the soul.
Bonfires are now a Thing of the past,
Since environmentalists and the local people have taken steps to decrease pollution levels in the mountains and thereby they encourage travelers to keep the vicinity clean and if possible promote afforestation.
" Need of the hour"- I remarked!
The weather drops down steeply with the advent of the evening, so we layered up quite quickly and then did some cooling down exercise played games like antakshari, dumb charades, and chor-police!
Childhood days coming alive and what an opportunity to relive them in such a lovely setting.
Day 3: Chirbasa to bhogbasa; acclimatizing walk to gaumukh
We started not so early in the morning, at around 8 a.m. Change the track for today is just over 5 kilometers and a mere 3-hour journey to Bhogbasa.
The valley widens up from Chirbhasa, certain while we get to see the snow clad peaks and the Bhagirathi sisters. It is indeed a glorious sight, as we Traverse this section.
The Trek guide made us aware of the possibility of landslides and rock falling why stars not to stop for a long duration at a particular place but keep moving forward swiftly and carefully.
There are many landslide-prone areas in this region, we must move with utmost care.
I silently said to myself-
" what's an adventure without risk?"
Trekking in the mountains has actually engraved with me a sense of fearlessness and boldness to take on any challenging situation.
A vast contrast can be seen in your behavior towards risk and adventure.
Nevertheless, we keep moving forward, and we came across the bridge what the water underneath rustled at a fairly Mighty pace.
From here the trail led us to bhojbasa,
Which is really a pretty authentic walk. After reaching bhojbasa mount shivling which stood strong and tall in its own grandeur and Glory.
This was a humble yet profound vision of such a prominent mountain.
My spirit really tasted freedom.
There is a beautiful igloo-like structure setup beside the bhojbasa camp, and we were lucky enough to get permission from the forest department to spend the rest of the night In them.
But for the time being, we unloaded or backpacks at the Campsite, cool ourselves down and after having a hot cup of tea and popcorn, we ventured out for the acclimatization walk to Gomukh.
Initially, we thought that the acclimatizing walk to Gomukh would be child's play and it would be around a kilometer from the Campsite.
But things turned out differently, was 2.5 hours from the Campsite, probably around 3 to 4 km with the sections pretty difficult in nature.
Two main sections which we had traveled, after connecting to the primary route of the gomukh trail.
In the advent of the first one, where to cross out a  humongous lead section of glacier post which Mount Shivling was viewed in its entirety.
At the second Junction of glacier interception, the formation of rocks falls in an undulating manner hence this becomes tricky.
The contrasting Boulders with the white mountains make it a worthwhile journey to undertake.
A small Shiva temple built here serves as a testimony of God's presence, but the temple is only accessible after due permission from the tapovan check post officials.
I thought to myself in a rebuking manner-
" now you need permission to attain the grace of God!"
We then marched on our way back to Bhogbasa. Today indeed was challenging day making us push our limits.
day 4: Bhojbasa to Tapovan via Gomukh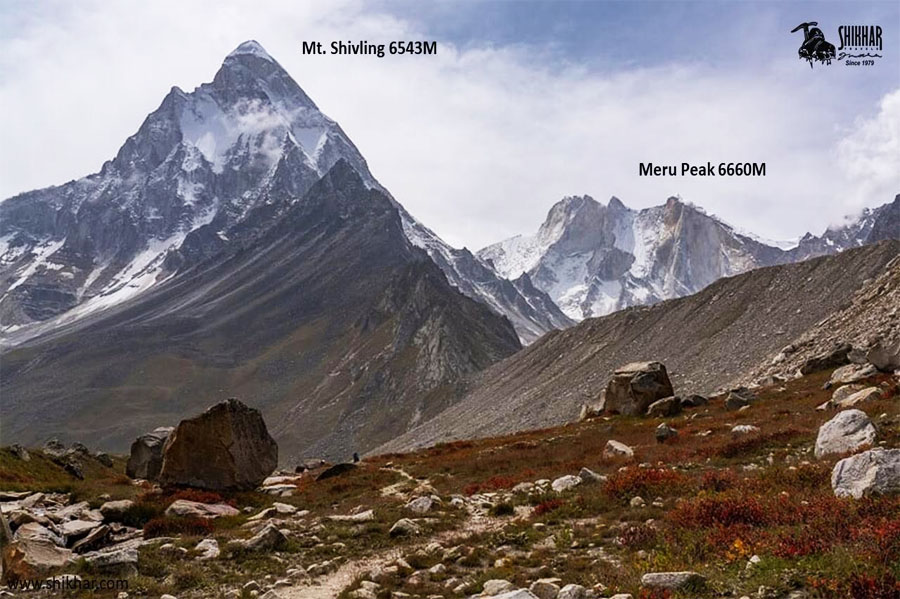 With bubbling energy, we continued our journey on day 4, and we took the same route as we did yesterday.
So this indeed, was a multiplied challenge for all trekkers since it is the most difficult part of the Gaumukh Tapovan Trek.
From climbing boulders to traversing glaciers which are prone to landslides
It is a complete adventurous package which exposes you to real life risk and gives you an avenue to build mental strength.
We then came across a glacial stream called Akash Ganga which we have to cross.
This section can be tricky and slippery because of its nature of being a Glacier.
So we had with as a local guide and our Trek guide who safely maneuvered us through this section.
Next came The Rock face section which we climbed to reach tapovan.
Since the members of our group were quite active, we were moving at a good pace so we managed our way through to tapovan before lunch itself.

That didn't pose a major risk of any rockfall or hefty flow of the Akash Ganga.
The next portion of this track was really a memorable one. We have to cross the Akash Ganga Glacial waters.
The level of water was on high tide ( quite high) so we took off our shoes and crossed the glacial stream.
We then got hold of a breath because we had another one to two hours climb to tapovan.
The bold views of the great mountains of
 mount shivling
 mount Meru
 mount Sumeru
 the Bhagirathi peaks
 and mount Sudarshan is visible in their Pristine beauty from this point.
The rest of the day went in pitching Tents, having delicacies of pasta and soups and watching our Milky way Galaxy unfold in the most gracious and grandeur manner.
Day5: Tapovan exploration
Tapovan is a high altitude alpine meadow situated at the foothill of mount shivling.
 Spread over 2 kilometres but not all regions are equally accessible.
I could feel and sense a mystical energy field in this place to which i later found out that, it was used by sages for meditation.
We then moved over towards a  trail which led us to Neeltal and from where a point serves a majestic views of mount Meru.
In spirituality, it considered to be the counter part of lord shiva and therefore is of utmost significance.
We took our steps back to tapovan after an enthralling adventure to revered mystical mountains of India.
We spent the day at tapovan discussing mountain stories of travelers and ghosts with the local guide which is really an interactive session which brought us to our feet.
After having hot gulab jamun and hot chocolate at night, we peacefully slept in our tents under the divine protection of the Lord.

Day6: Tapovan to chirabasa
As days progresses, we grow better and better and we knew that the trek was on the verge of coming to an end since this was the second last day, so I wanted to make the best of the time I had.
I remember I woke up early that morning at about 5 and went for a little stroll near the Campsite and I  peacefully sat in the silent environment and gradually as the sun raised self  over MT shivling, I immersed  myself in nature's sanctity.
" I am the spirit infiltrating the sky,
I am the traveller times' Vagabond passers-by."
We were always advised, to move on in a slanting manner while descending down the Mountain so it actually puts less pressure on your legs and it  does not tire you off.
It was a 5 km Descent down to chira basa. the trail composed small Rock particles which made it a bit difficult.
But as an  experienced trekker, I managed by way swiftly down to the  camp.
Day7: Chirbasa to Gangotri, Drive to dharali.
REMINISCENCE
"Life is a complete circle, I am here whence I once stood."
That pretty much describes the journey of our lives which are similar to mountain trekking.
Loads of memories and bunch of new friends, we happily made our way back to the Dharali.
So friends, that's How I did the Gaumukh Tapovan Trek.
*Pc-(Google images)