Image – irctcstationcode.com
We've all seen the photos of trains in India where the carriages are so packed that people are squished into tiny seats, spill out from the doors and take refuge on the roof. Just the thought of a train journey like this is enough to induce a claustrophobic panic attack and have many travellers wondering how the hell they're going to survive a couple of hours never mind an overnight journey on a sleeper train!
The online reservations in Indian trains have been made easy and quick. Even after you have booked your journey there left the survival hacks for Indian trains, that will keep your journey pleasant.
Fewer Halts, more comfort
More halts means train's average speed will always be lower than train with fewer halts. Also every halt will have new passengers and they will switch on the lights at night to locate their place.
Get reservation in the train with fewer halts. This will only make you reach earlier to your destination, moreover will save from the discomfort of fellow passenger's boarding and de-boarding. 
No problem in Finding your seat
Image – quora.com
Don't hunt around for your seat while in a coach. Every compartment consists of 8 berths and there are a total of 9 compartments so calculate in which part of the coach you should enter. For example, if your seat no is 21, then its middle berth in the 3rd compartment, try getting from the nearest end instead of having to traverse the entire length of the coach. Alternatively, read the seat numbers written outside the coach.
Incase your seat is not confirmed!
Image- Tapioca.xyz
There is a chart stick outside every train coach, listing the passenger's boarding and de-boarding. Just look for the seats that have boarding at some stations later or have early de-boarding. Finding a temporary vacant seat will help you get a couple of hours sleep.
Avoid Food Poisoning while travelling in Indian Sleeper Trains! 
Do not buy any eatables from the station based window servicing vendors.
Mostly they are opportunist who try to sell cheap eatables made of unhygienic ingredients. Some of them try selling their inventories (which were not sold yesterday or before), which could make you seriously sick. If your train does not have a pantry (which many Indian trains do not have), prefer buying from an authorised station vendor (you can find their stores near the entry gate or waiting room).
Rent a blanket and pillow
You'll need to get in there early if you want a blanket and pillow but it will make your journey much more bearable. If you've got AC it can get chilly in the middle of the night and you'll get a better night's sleep with a pillow.
If you've got the space then I'd recommend packing your own blanket and packable pillow but if you're travelling light it's pretty cheap to just rent one.
Occupancy of train toilets
Image – wikipedia
The toilets on the India railway system are more or less similar for all the classes. Each coach is typically equipped with 4 toilets – 1 western style toilet, and 3 squat-style Indian toilets. 
There are two latches for the toilet. One is a twin latch that can be opened and closed from both inside and outside. The other can be operated only from the inside. Lock this one when you are inside and leave the other one open. This gives the indication from outside that it is occupied. The toilets with the twin latch in the closed position are the unoccupied ones.
The flavoured sip in the morning on Railway Station!
Wake up early for the best morning tea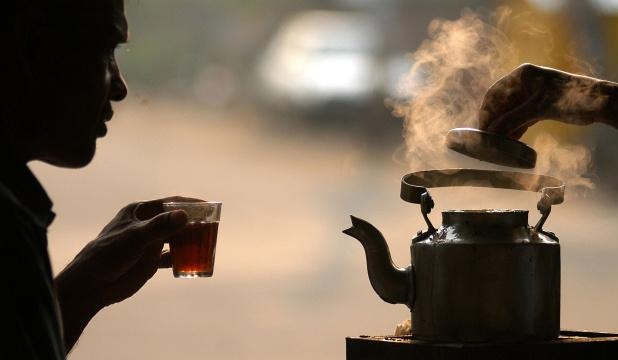 Image – indianeagle.com
Tea is usually served throughout the journey by the partner vendor, though it does not taste good at all. In the morning usually 6-8'o clock, the local tea vendor on any halt boards the train and serve the most delicious tea in the world. The chai tea on sleeper trains in India is about 10 million times more delicious than any other tea in the world. Make sure you have plenty of small change to get the cup quickly before the whistle.
Your best friend at train
The Traveling Ticket Examiner, or the TTE as he's known, collects all the tickets on the Indian train. You have to show him your ticket on request. He usually dress like this – 
Image – alladin.st
The TTE is the best person to speak with about questions or concerns about your India train journey. Some common inquiries that the TTE will be able to address are: Swapping your berth, Arrival and departure timings, Extending your journey on the same train, Upgrading your class, which is based on availability.
The TTE, and other train staff, is trained to handle the medical emergencies. Interestingly, all the passengers are insured by the Indian railway system against accidents while at the station or on the trains.
You can even ask him personal questions like how many children he has… the question will be appreciated! 
Typically one TTE is in charge for about 4 coaches, and will travel along with the train. For long distance trains, a new TTE takes over every day. The TTE locks the coaches from inside during the nights. Many night running trains have a few policemen as night guards.
The COMS
To cater any kind of complaints or suggestions Indian Railways launched this mobile app COMS. You can report any issue regarding your journey. Incase the water is missing in taps or the toilets are not clean, you can report your complaints or help at
SMS  – 9717630982
Twitter- @RailMinIndia
Railway's Crime Helpline
The All India Railway Helpline number, 1512, is all passengers need to remember and utilise in the event of falling prey to a crime on railway property including both running trains in addition to platforms and stations across 27 States and all Union Territories.
Share these hacks with your friends on Facebook and Twitter, to let them know to survive every journey in Indian trains.