Pushkar Holi Festival 2018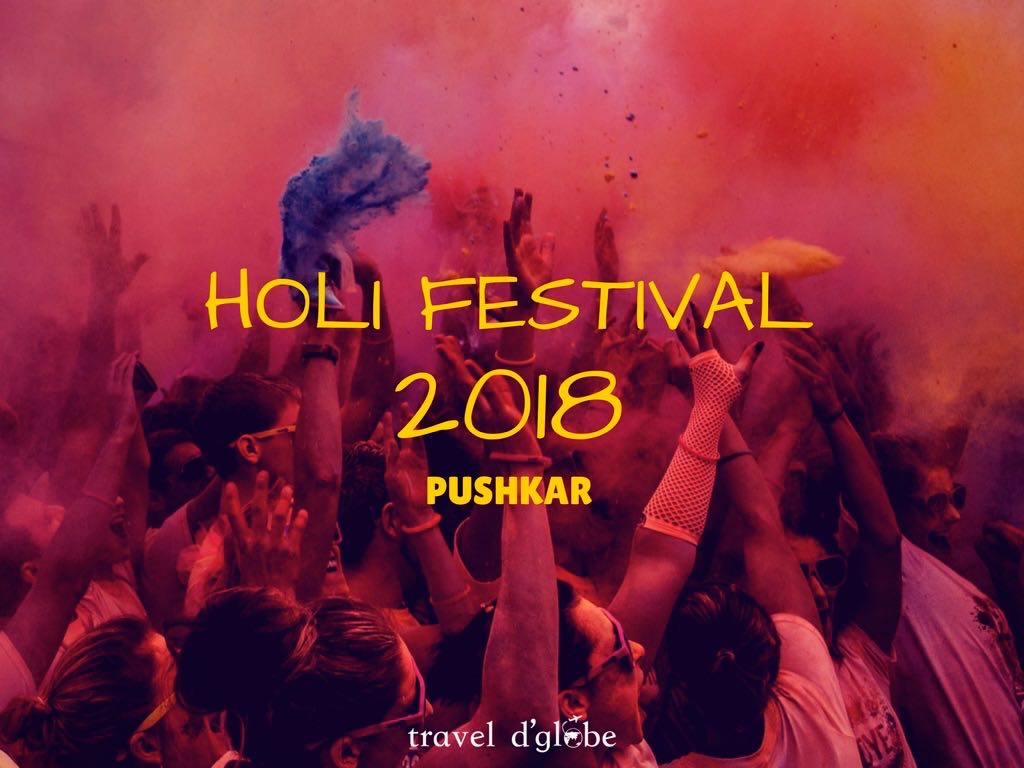 Pushkar Holi Festival 2018
About this trip
Come and celebrate Pushkar's spectacular Holi Festival of Colour with us in an all new larger, safer location. This year we we be bringing you a full pro audio sound system with crazy new decor to match.
Travel with: 
Friends, 
Couple, 
Solo 
Experience the colours of India, at this safe location and celebrate the festival of Holi with new friends. If you are an artist or performer, you can join us as well and rock the party.
Itinerary
Holi Festival Pushkar : 
There are various type of holi played around the country and Pushkar Holi has got different identity among all the holi played in India. Holi is the spring festival of India, celebrated by playing with vibrant colors. The colorful festival is the wonderful opportunity to reconnect to the family and friends by applying colour on their faces.
Not only Local people but foreign tourist specially people from Israel take participation in Pushkar Holi with great enthusiasm. During the festival, people smear color on each other's face and splash water, playfully. The festival is known for the generous use of colors, which are produced both naturally and artificially. While gulal is the main color of the festival, which is available in vibrant pink shades, red, green and yellow, other colors, which are a bit hard, have also occupied the market shelves.
We are providing stay in our luxury royal tents in Pushkar along with Holi celebrations from 1st March to 3rd March. You are welcome to join our camps and Holi celebrations on either day.
DAY 0 (01-03-18): Leave your home to join us next morning.
          12:00 am – Checkin at the campsite
          11:00 am – You can visit Brahma Temple, Pushkar Lake and take a dip of Astha in Lake
          07:00 pm – Bonfire and light Music around it
09:00 pm – Dinner at Campsite.
DAY 1 (02-03-18)  Checkin in the morning to our Luxury Camps at Pushkar.(Triple Sharing)
10:00 am – Breakfast
11:00 am – Holi Celebration and Dj Music
07:00 pm – Bonfire and light Music around it 
09:00 pm- Dinner at Campsite.
Day 3 (03-03-18):
         10:00 am – Breakfast and
         11:00 am – You can go for Pushkar Camel ride and explore the Pushkar Desert and Fort. 
         leave with best memories 
*Things included in the package*

– Dinner & Breakfast

– Stay in Luxury Royal Swiss Tents with attached Bathrooms

– Bonfire

– Dj Music on 2nd March
– Snacks
Cost- 
2days 1night stay – 3000/- per person + 5% GST 
3days 2night stay – 5000/- per person + 5% GST 
* prices valid only on booking before 14th February 2018
You can confirm the event by paying 100% in advance on below-mentioned payment details. 
NEFT 
Beneficiary Name: TDG Stellar Tours and Adventures Pvt Ltd
Account No: 039605002660
IFSC: ICIC0000396
Account Type: Current
Bank: ICICI Bank, South Ex -2, Delhi
For any query feel free to reach us at +91-9210903503, +91-9210638305.
Please book as soon as possible, we are closing the registration soon. 
This Time celebrate the Holi in Style with mix of indian and foreign traditions
Show More
Inclusions
Breakfast
Dinner
Refreshment
Snacks
Music
Exclusions
What you need to pack for this trip?
Toiletries
Mobile Phone and Charger
Nearest Location: Pushkar
Pushkar is a serene and calm place full of divinity and spirituality. It's set around Pushkar Lake, a sacred Hindu site with 52 ghats (stone staircases) where pilgrims bathe. The town has hundreds of temples, including one dedicated to "god of creation", Jagatpita Brahma Mandir. Pushkar is also a home for hippies. Pushkar has lots of hidden mystic stories around the corner, try explore and find yours. Take your time and enjoy the local music of tumbi, Dhol, ektara, gongs and some devotional songs. Take a camel ride in the evening around the desert and oasis area, and watch the sunset behind sand dunes.
For Group bookings discount or customization
Enquire – +91-921-0638-305
Why to join our Social trips?
Have your quite time
You need the moments of solitude for you to reflect on your life, live your dreams, and take stock of what you are thankful for.
Innovative itineraries
To make every trip's experience refreshing, we put some surprise and new elements on our every trip, whether it is yoga, start photography or flying sky lantern.
Turn Strangers to Friends
Our trips are focused to bond better with fellow travellers. You are all unified by your common passion for travel and adventure, it might just be the beginning of several wonderful friendships.
Safe for solo travellers
You get the sense of empowerment and comfort with our trip crafters. Solo traveller(man/woman) will have the sense of safety while going for the adventures with us.
Love for travel by our customers
You will get every reason to travel with us, travel d'globe specials
Learn Travel skills
Creative Photography
Adventures forever
Reinvent yourself
Inter-culture Interactions
Make New Friends
Frequently Asked Questions
What type of food/beverages are included in itinerary?
All veg meals will be served during the trip. Breakfast, lunch and dinner will be provided(timings are not strict). Non alcoholic beverages will be on welcome and with some of the meals.
How to confirm my seat?
It is very easy, fill the above form and mark your seat with 50% advance. That is refundable in case you cancel on before 5 days of trip start date 
(Cancellation Policy)
Disclaimer
travel d'globe has created itinerary for its travellers and is responsible for the travellers who booked it from www.traveldglobe.com only. Based upon the weather conditions, www.traveldglobe.com reserves all right to change this itinerary.
Did you find what you were looking for?
YES I Did
I find the price high
I am not interested
I do not like itinerary
I have other plans on these dates
I will book later
Great! You are among the happy users.
Drop your email/mobile no. to plan your trip
Wanna try once more?
Drop your email/mobile no. and our travel expert will reach to you.