20 PLACES TO EAT IN LUCKNOW
Lucknow, the City of  Nawabs with rich culture and heritage- it's beautiful sprawling gardens, polite mannerisms, fine cuisine, music, and poetry is the ultimate destination for every wanderer. From Chikkan to Chicken, Lucknow has it all!
This city is the perfect blend of early tradition and modern growth of new mannerism. The Lucknawi cuisine or Awadhi cuisine is the manifestation of Ganga-Jamuni Tahzeeb. The traditional food of Lucknow was highly patronized by the Mughals thus giving it a very royal touch.
The most famous dishes of Lucknow are Kormas, Kaliya, Nahari-kulchas, zarda, Sheermal, Roomali Rotis and Warqi parathas.
Talking about Lucknow how can we forget the Kebabs! Kebabs or the meatballs come in different varieties. Some of the most famous and delicious! Varieties of Kebabs are Kakori Kebabs, Shami Kebabs, Boti Kebabs, Patili–ke-Kababs, Ghutwa Kebabs and Seekh Kebabs.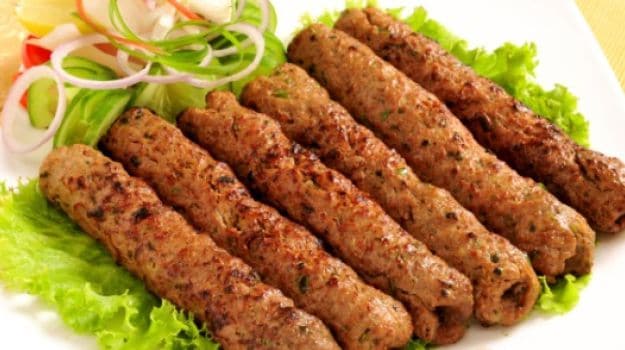 But the question remains, where can you find these lips smacking delicacies? Don't worry here are the twenty best places to eat in Lucknow.
1.    TUNDAY  KEBABI
For all the meat lovers it's a must go place for you. This place has a pretty amazing story behind it. 
Nawab Wajid Ali Shah who really loved to have kababs, but with his age, he lost his teeth and was unable to enjoy the kababs. For this, he organized a competition that who so ever prepared the softest and most tender kababs would enjoy royal patronage.
The secret recipe was created by Haji Murad Ali, who apparently had only one hand and people used to call him Tunday and this is how the kabab got its name, Tunday Kabab. The recipe is a family secret and is passed down through the generations by the ladies of the house.
This place is over 100 years old tucked away in a corner of Aminabad, the original branch of this shop is situated near Akbari Gate, Chowk.
2.    DASTARKHWAAN
They have a Dhaba in Hazratganj, the restaurant in Lalbagh near Vidhan Sabha and one of its branches in Gomti Nagar.
 It has a wide range in the menu with great food and quick service.  It serves the best Chicken Masala, mouth-watering Galawati Kebabs, Butter Chicken Masala with Mughlai Parantha and much more! The Chicken Kali Mirch is the real treat for taste buds! It is the perfect place to dine with family and friends.
They also offer to take away service and delivers food at your door steps. If you are in Lucknow for just one day, visit Dastarkhwan, it will quench the thirst of non-veg delicacies.
Mutton, chicken with such variety! What else does a foodie want, right?
3.    IDREES KI BIRYANI
One of the famous and best biryanis in Lucknow, Idrees Ki Biryani indeed tops the list. This shop was started in 1968 by Mohammad Idrees. This nondescript-looking outlet in Chowk serves excellent biryani! This is more of a take away joint with a couple of tables laid out on the road outside. The biryanis are slowly cooked in large degchis over the wood fire which provides, the biryani rice a great flavor and tempting aroma. It takes three hours to prepare a Degh and total of 16 to 18 Degh are served in the day. Meat is exceptionally tender.  The simplicity of the biryani brings out the flavor of all the ingredients. The present owner, Abu Bakr proudly listed the prominent visitors at his shop like Atal Bihari Bajpai, Mithun Chakraborty, Vinod Dua.
This place has undoubtedly mastered the art of biryani cooking.
4.    WAHID BIRYANI
This is the place offers succulent kebabs and chicken biryani!  The nice and rich Awadhi flavors can be tasted in the tender chunks of well-cooked meat sitting amidst perfectly over the seasoned rice. This shop was established by Wahid Ali Qureshi in the year 1955 is now a well-known name in the country and abroad.
Besides the biryani and the complimentary salads, chutneys and raitas make it more mouth-watering! Chicken Masala, Seekh Kebabs, Mutton Biryani are also some of the other delicacies served here. It has various branches all over Lucknow but the most visited branch is in Aminabad next to Tundey Kababi.
5.   RAHIM KI NIHARI
Raheem ki Nihari is tucked away in a super narrow lane, where only two wheelers can enter and at a walking distance from Tunday, Chowk near Akbari Gate. Nihari is Lamb shanks stewed over very slow fire overnight.with select spices. The meat is soft and is served with fresh, warm incredible flaky kulche– a marriage made in heaven!
The best part about this dish is that since it is cooked for a comparatively long period of time, the flavor of the meat is perfectly blended with the herbs and spices, lending it a delightful flavor.
6.   BARBEQUE NATION
It's the ultimate place for all your celebrations. The service is extremely well, good food and ambiance everything is worth the money you spend. They not only serve nonveg but are also the favorite destination for vegans.
 They serve Dahi ke kabab, seekh kabab, tandoori murgh, Paneer Tikka, Spicy Pineapple, Mushroom, Dahi Tikki Cajun Spicy Potato. Their deserts are on a whole new level ad the tastes will blow your mind. The recent addition they have done is six new flavors of kulfi with numerous types of toppings.
Just don't forget to book a table before you go.
7.   SKY BAR
Sky bar is on the top floor of Renaissance, Gomti Nagar. From there you can witness an awesome view of the Lucknow. They have both indoor and outdoor seating with a pool beside. The speedy service, warm welcome, and great food make it a must visit place. They also have a good range of mocktails and cocktails.
This place is at its best in the evening with soft music in the background and perfect view of the city.
8.   SPICE CAVES
It is the first theme restaurant in Lucknow. The theme is of medieval forest cave with the eclectic decor worked wonders for the ambiance and offering an extensive menu from Mughlai, North Indian, and Chinese. The cutleries they used are made of brass. Ancient Indian wisdom says that eating food or drinking water should be stored in brass vessels for good health.
As you enter they welcome you by offering Pan Drinks. This place is perfect for both family and couples.
9.   OUDHYANA
Oudhyana , a restaurant by Taj Vivanta takes you back in time. The beautiful interior depicting the glorious era of Nawab. They serve all the Mughal and Awadhi cuisine. This place is quiet in rush so don't forget to reserve a table.
10.   KALIKA HUT
Bored with fascinating restaurant and mall food courts? This place has a dhaba-like setup which truly justifies the name 'Kalika Hut'.
The place is huge with sitting area divided into many small hut-like sections. They serve food in earthen pots. 
11. NAINITAL MOMOS
Bored with momos? Think again.. Nainital Momos is pretty much a brand name now who so ever thinks of the word 'momos'. They have the quick service and perfect place to hang out with friends finding out which type of momos to try amongst the huge range. Go and fall in love with the hot and spicy momos! 
12. ROYAL CAFÉ
Royal café is the well-known restaurant chains in Lucknow serving vegetarian and non- vegetarian dishes. They have created a unique identity as the best multi- cuisine restaurant. They started in 1991 and within the short of period of time gained popularity. The famous basket chat of Royal café is most in demand. It has four outlets all over Lucknow but the most famous outlet is at Hazratganj.
13. PRAKASH KULFI
Situated on the busy streets of Aminabad they serve you the best kulfi. Finding this place won't be a difficult task at all as its highly popular. They even serve sugar-free kulfis. Your order is instantly served and when the sweet kulfi meltdown in your tongue with the burst of Saffron,Cardamom, and Nuts, you are going to be in paradise. Kulfi Falooda is its main attraction.  So if you have sweet tooth then go visit now. Love isn't red but yellow.
14. CHAPPAN BHOG
Started in 1992, this place is undoubtedly one of the best premium sweet shops in Lucknow. The qualities of the sweets are outstanding and there is no compromise with it. They have a wide variety of sweets and during the time of the festival, there is always a unique touch to sweet, for example, Golden Gujiya! Not only sweets but also the chat here is to die for. The Aloo Tikki, Matar Tikki is absolutely out of this world.
They deliver sweet all across the country and outside.
15. RAM ASHREY 
Ram Ashrey is more than 200-year-old sweet joint in Lucknow. They started in 1805 with a small shop in Chowk. The exotic taste and aroma make the sweet irresistible. Some of their specialties are Kesari Peda, Malai Pan, Pista Barfi, Channa Nukal.
16. FROZEN FACTORY
'Ice creams do not belong in the fridge' – Frozen Factory justifies its tagline beautifully. If you are an ice cream lover then this place belongs to you. Located behind the main outlet of Nainital Momos this place is pretty amazing. They serve these beautiful ice cream roll made right just in front of you. They also serve waffles and shakes which are excellent too.
Recently they have opened their two new outlets at Alambagh and Chowk.
17. MOCHA
This café is at Patrakarpuram has already cemented its reputation with some absolutely good-looking freak shakes and other delicious food items. The cafe is brightly lit from the inside and has a friendly ambiance. It's a mix of sofa, communal tables and a bar where you can enjoy a tipple. 
If you are in Lucknow for a day and want to hang out with friends then this place is absolutely perfect for you.
18. KING OF CHAT
One of the oldest chat shops in the City still maintains its legacy in terms of taste and aroma. Situated near KD Singh Babu Stadium this place is usually flooded with customers. The Golgappas and Aloo Tikki are everyone's favorite. They also dish up various kinds of chats such as Mattar Tikki, Paapdi Chat, etc.
19. SHARMA CHAI
Sharma Ji ki chai is a heritage as you may say. It is the most famous tea stall located in Lalbagh, Lucknow. In 1948 Pandit Om Prakash Sharma along with his four brothers started this tea stall. Chai(tea), Bun Makkhan and Samosa are its specialties. Many prominent personalities such as Rajpal Yadav, Suresh Raina, RP Singh etc. visited his shop.
20. AZHAR BHAI KA PAN
After having all the delicious delicacies at Chowk, Azhar paan is the place it put a full stop to your food voyage. This place has broad choices in pan. Some famous pan are, Pistai Pan, Desi Pan, Zafrai Pan, Saunfiya Pan, Khatta Meetha Pan, etc. Raza Murad, Daler Mehndi, Manoj Bajapi are few well-known visitors at this shop.