Tirthan Valley, a magical escape from overcrowded tourist spots. The land of untouched, mystifying beauty in the verdant green valley, this hamlet is perfect for giving yourself a break from the world. 
The sky-high mountains kissing the clouds, with alpine groves and deciduous forests on the backdrop of the Himalayas, Tirthan Valley, Himachal is one of the picturesque valleys of the Himachal and definitely heaven to the nature lovers.
(Source- soulsafar)
Situated only around 50 kms away from Kullu, Tirthan Valley's altitude is 1600m above sea level. The valley derives its name from the Tirthan River, which winds its way through it and originates from the icy cold glacial springs of Hanskund. Tirthan is an offbeat destination and has something for everyone. It is a perfect adventure-centric getaway blessed with nature's wealth of treasures.  
(Source- bikatadventures)


Why Visit The Tirthan Valley?
There has been a high rise in the ecotourism since last decade. In Himachal, a large number of tourists come to visit Kasol, Tosh, Manali, Kheerganga, etc. Tirthan Valley, however, has managed to remain a destination less travelled to. So, you can be sure to find solitude and peace in this destination with fun-filled activities galore. The quaint valley offers ample opportunities for offbeat travellers in its unacquainted landscapes. Tirthan Valley in Himachal is a great place for those holiday makers who seek adventure as well as peace.
(Source-holidify)
Experiencing the spell of nature
Mountains covered with snow, with magic in its ambiance, this place is best known for its trout fishing and has a surprisingly high influx of foreigners. Tirthan Valley's weather is pretty amazing throughout the year.  You can spot a variety of vegetations including apple orchards in spring, dense coniferous forests, and sprawling alpine meadows; numerous water bodies like Tirthan River and other small lakes like Serolsar are spread throughout the valley. 
Nagini, Gushaini, Banjar, and Shoja are the tiny yet beautifully settled hamlets where you can find terrace farms and small huts and houses amidst the woods.  The meadows in the area are ideal for walks and stroll through them and admiring the scenic beauty of the valley. A stay at these hamlets is a sure shot way to reboot your soul. The residents of these villages are also famous for the wood carvings they make, which decorate almost all temples of the Kullu Valley.
(Source- blogspot)
A hike from Rolla village will take you to a hidden waterfall within the valley. Sit by the tiny waterfall and breathe in the ethereal ambiance of the surroundings. 
A longer hike to the north will take you to Shilt, a herdsman hut with a striking view, whereas to the south lies Khorli Pohi, the breeding area of a multicolored bird, Monal bird which is only accessible through special permission from the forest department. Tourists are driven from Tirthan Valley to Manikaran, hot water spring. This hot water natural spa is famous for its medicinal properties
(Source-thebetterindia)
Tirthan Valley Attractions:
​​Great Himalayan National Park
Tirthan Valley National Park or Great Himalayan National Park was established in the year 1984.  This park was awarded UNESCO World Heritage Site status in 2014.  It is spread over an area of 1,171 km sq and is at an altitude of between 1500 to 6000 m. Right before the main entrance is a huge and captivating waterfall. Standing at the entrance of the park one can have a clear 360-degree view of the valley. 
For entering the National park, permission has to be taken at the forest rest house in Sai Ropa. The park has exotic species of flora and fauna. The place is known to house a wide variety of endemic Himalayan wildlife including Himalayan Tahr, Red Panda, Brown Bear, Snow Leopard and Clouded Leopard. Rich in biodiversity this national park is favorite among field researchers, botanists, wild-life enthusiasts.
(Source-happytrips)
Jalori Pass is the nearest mountain pass from Delhi. It is situated at a distance of about 100 km from Shimla. This spot is a must on every adventure freak's list of places to visit. Featuring some of the bumpiest roads and uneven terrain this is the beginning of your Himachal adventure voyage. Just a few miles before the pass, it becomes tough to drive even in first gear making it a thoroughly challenging yet thrilling experience. Not just an adventure tourist or a trekker's paradise, it also reaches out to the soul of a nature fanatic with its panoramic view of the snow-clad Himalayas. The journey can be dangerous if extreme caution is not employed by the travellers.
(Source- ytimg)
Five kilometers away from Jalori Pass is another major attraction located. Serolsar Lake. A thick cover of oak trees surrounds the lake. The water of the lake remains crystal clear despite several leaves falling into it. The place is better known for its temple devoted to Goddess Budhi Nagin who is believed to be the mother of the 60 Nag Devtas according to the Himachali folktale. It is also said that Pandavas visited Serolsar in Dwaparyug during their exile period and planted rice here. The walk to the lake is enchanting while gazing the beauty of nature will make you ponder upon God's such heavenly creation. 
(Source-thebetterindia)
Chehni Kothi is a 1,500-year old castle built with stone slabs and wooden beams. Also called Dhadhia Kothi, it was once the fortified house of Rana Dhadhia, the former king of Kullu. It used to be fifteen storeys high but after the earthquake of 1905, only 10 floors remain. Built in the traditional style of architecture, Chehni Kothi is the tallest free-standing structure in the complete Western Himalayan region.
(Source- thebetterindia)
What makes it a perfect getaway?
Tirthan valley from Delhi is approximately 500kms, which makes it the perfect three-day getaway. It is also reachable within two days, but will inevitably be a bit exhausting. You can go by car, by bus or even by air. By bus, it takes around 13 hours from Delhi, through Aut and Banjar, with Gushaini or Mungla as your final destination. Tirthan Valley to Chandigarh is connected via NH-21. 
(Source-trodly)
How to reach?
One of the most common ways to reach here is by car or by bus. If coming by bus, you can get your tickets booked from the office of Himachal Pradesh Tourism. From Tirthan Valley nearest railway station is Rupnagar which has connecting trains to Delhi, Haridwar, and Rishikesh. Bhuntar airport in Kullu is the nearest airport which has daily flights to New Delhi operated by Air India.
(Source-i0.wp)
Fun Activities to do at Tirthan Valley 
This quiet valley is ideal for trekking, fishing, wildlife watching, and discovering under-explored hill villages. Travellers can indulge in numerous adventure and fun-filled activities.
Trekking
Tirthan valley's trek experience is something you'll never forget. This valley is the starting zone for trekkers to start their trekking in nearby Great Himalayan National Park.People usually stay one night in the valley before going off on a trek. It takes a minimum of two days' trekking from Tirthan Valley to even enter the park; an overnight two-day trek is, the minimum. But for those desire more action, the stay can be stretched up to seven days.
Trek within the GHNP includes the Rolla Trek (two days), Shilt Hut Trek (three-four days), Maranhi Trek (three-five days) and Raktisar Trek (five-seven days). It is best to go with the tour guide, as tourists aren't allowed to venture without professional guides. Depending on the difficulty level, one has an option to choose from half day, full day, overnight or multiple day camping. Whatever you may opt for, this place does promise a wonderful experience and equally amazing trip.
(Source-thebetterindia)
River Crossing
River crossing in the Tirthan Valley is an adventure sport for people who are looking for some adrenaline rush. A person is tied to a safety harness and slides from one point to the other, with the intense River Tirthan gushing under. The icy cold spray of the river while taking on the sport, sure is a motivating factor for enthusiasts.
(Source-tripadvisor)
Camping 
Resting under the stars on the banks of the serene lakes of Serolsar and Parashar, the silence of the valley and music will please the soul to its most. Bonfires, camping, and music under the starlit sky will intensify the feeling of bliss and the scenic is the ideal place to take a break from hectic city life. Tirthan Valley adventure camp may cost a little bit but it will give an experience to cherish for a lifetime.
(Source-allevents)
Hiking 
Tirthan Valley is also a great starting point for a one-day hike in its verdant surrounds, through small, quaint villages and towards beautiful vistas.The Dingcha and Tinder Hike starts from Gushaini, and goes up to the local village of Tinder. The trek to Dingcha is slightly steep and can take about two hours to complete. But it is worth it, as Dingcha offers a fantastic panoramic view of the Tirthan Valley. 
The Nohanda-West Hike also called the Himalayan Villages Hike, starts from the village of Pekhari, and the trail goes through several other villages, including Lakcha and Nahin, with spectacular views of the GHNP. the hike to the Park gate goes along the Tirthan River, crossing a few traditional villages and deep forests, and can last up to five hours.
(Source- greathimalayannationalpark)
Fishing 
There couldn't be an ideal place for fishing than the crystal clear Tirthan River, a tributary of Beas. Home to an abundant population of rainbow and brown trout. The Himachal government has declared Tirthan river as an angling reserve and taken a decision not to allow any hydro power project on this river in order to maintain its rich aquatic biodiversity. A license taken for trout fishing here gives permission to enjoy fishing in a 45 km stretch of the river that has oodles of points for fishing fanatics to set the base for angling.
(Source- shopify)
Rock Climbing
Rock climbing is another adventure sport that is undertaken by a lot of travelers while visiting the valley.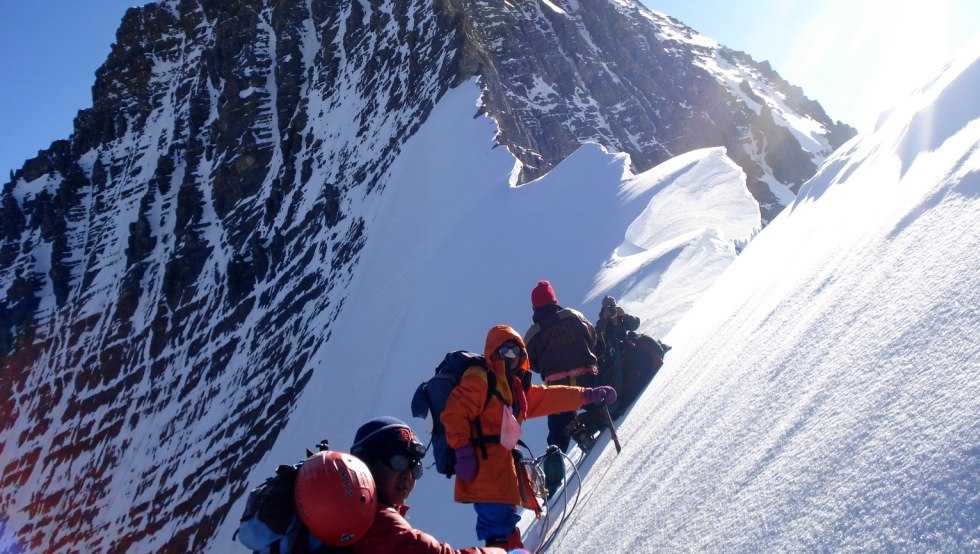 (Source- holidify)
Best time to travel Tirthan Valley
The best time to visit Tirthan Valley is from March to June, and during the months of October and November. Tirthan valley in April is the time when you'll find most of the travellers and adventurists. For trout fishing, the warmer months are ideal. 
If you plan the trip between December to March it is recommended to wear and carry warm clothes.
(Source-indiatourismecatalog)
Where to stay?
All Tirthan valley guesthouse, resorts and hotels are situated by the river and depending on your budget you can pick anyone.
Tirthan valley's Raju Cottage in Gushaini is itself a tourist attraction. Situated within beautiful fruit orchards this gorgeous wooden guest house is reached by crossing the gushing Tirthan on a metal basket hung on a one-inch thick wire pulley – a scary but incredibly fun ride. This rustic river side home is a perfect place to stay.
(Source-bstatic)
Khem Bharti and Bisht Niwas Homestay are one of best home stays at Tirthan. There are other famous home stays like Raju Bharti's Guest House, Himalayan Trout House, Riverside Resort etc. and their booking starts months before due to high demand.
(Source-discoveryatra)