Travel photography allows you to hold the world in the palm of your hands and to capture the rare beauty of the world in all her finery. Whether it's shooting the lavender dusted fields of Provence or catching the last fingers of sunlight over the spires of Florence, you want to make sure that you have the best accessories to capture the moment. These inspired accessories are perfect for packing on your next photography holiday to bring out the best in every image.
Triggertrap Mobile
Imagine the creative possibilities if you could easily control camera using your iPhone or Android device without investing heavily in pricey hardware? The Triggertrap Mobile does exactly that offering remote controlled time-lapse modes, sound, shock and vibration sensor triggering along with star trail capture and bulb ramping amongst other features. For less than $40 you can vamp up your DSLR and perfectly capture that meteor shower over the abandoned farmhouse or the tumbling waterfalls of Bali.
Camera sensor and lens cleaning kit
Whether you are out in the dusty outback of Australia or riding through the High Atlas Mountains, you want to make sure that your camera lens stays clean to capture those crystal clear images. Even though newer model DSLR's automatically clean their sensors you still want to stay on the safe side and give your lens the tender loving care it needs to do justice to your vision. The Altura kit comes with everything you need to continue to shoot with clarity and style.
Neutral density filter
One of the most important tools to carry as a travel photographer has to be a neutral density filter. This little gem acts as a pair of sunglasses for the lens and reduces the light, making it possible to shoot long exposures in sunny conditions without overexposing, giving your photos a more dramatic edge. This filter is also the perfect tool for photo trips when you want to shoot the glassy waters of the Mediterranean or the flaming sunsets melting in the desert sky. The graduated natural density filter is the ultimate accessory for landscape shots that ooze power and the wonder of Mother Nature.
Circular polarizing filter
Bring even more colour to your palette with a circular polarizing filter. Whether in the wild meadows of the Alps or capturing the colours of the English countryside in autumn, you can enjoy richer hues and greatly reduced reflections with this filter. With this helpful filter you can take out the glare of a summer day, reduce the haze over Paris and turn those water images into a living fairy world.
Manfrotto BeFree travel tripod
Every travel photographer knows the groans associated with trying to pack a tripod for a weekend shoot away. Tripods tend to be heavy and hard to stuff into a suitcase, but times are changing and the Manfrotto BeFree Travel Tripod can be your new best friend. Moonlit photography or trying to capture the time elapse of dusk until dawn all rely on a sturdy tripod and the Manfrotto travel version is durable, more than capable and lightweight to boot. Fold it up and down in seconds and make getting off the beaten track on your next photo trip a dream come true.
Nexto portable memory card backup
If the idea of being separated from your camera sends shivers down your spine then it's time to prepare for the worst and invest in a portable memory card backup. During the long flight home you may find yourself separated from your trusty laptop but knowing you have all your beautiful images stashed safely in your portable memory card backup will help you to sleep easier. The Nexto model is a great option boasting a staggering 500GB of storage; just make sure you keep it close to hand.
Extra batteries
After a long day shooting lion cubs tumbling in Tanzania or scouring tiny French Villages in search of the perfect crinkled face, you can forget to put your batteries on charge. Every good travel photographer knows the golden rule of a photo trip – always pack spares. The last thing you want to do is to miss that sunrise shot you have been dreaming of due to a flat battery.
Camera bags
Camera bags are an essential part of the plan when it comes to traveling with your prized possession. You need to find something that comfortably holds all your gear and won't suffer getting caught out in India's monsoon season. Another factor worth taking into consideration is choosing something that doesn't look glaringly like a camera bag to reduce the risk of theft. Crumpler offer stylish and functional bags that bring elegance, style and convenience to travel photographers.
Camera Rain Cover
As well as various power solutions, you'll notice a lot of the items on this list relate to maximising your photographic potential on your travels. A decent rain cover is another such accessory.  In a lot of hotter climates rain is a daily occurrence in the afternoon and the dramatic skies of monsoon season in Asia is actually a good reason to choose that time for a trip.  Wherever you are in the world though, you'd be lucky to spend a couple of weeks there without some precipitation.  Taking a rain cover allows you to experiment in these conditions and whilst it is typically harder to get great shots in the rain, there's often times where you'll find something great that you otherwise would have missed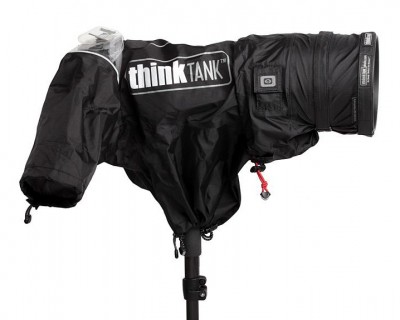 .